Complete series to be released on home video during initial TV airing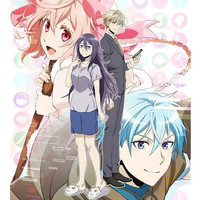 The first details on the Net-juu no Susume (Recommendation of The Wonderful Virtual Life) anime adaptation have been posted detailing cast and staff along with the first promo video. Below, the cast and staff listings, along with the promo.
Cast:
Moriko Morioka: Mamiko Noto
Yuuta Sakurai: Takahiro Sakurai
Hayashi: Ryouta Suzuki
Lily: Reina Ueda
Homare Koiwai: Tomoaki Maeno
Kazuomi Fujimoto: Takuma Terashima
Kanbe: Yuuichi Nakamura
Lilac: Yuuka Aisaka
Himeralda: Takanori Yagi
Pokotarou: Kazuhiro Sunseki
Staff:
Director Saori Den
Series Composition Kazuyuki Fudeyasu
Character Designs Senbon Umishima
Animation Production Signal. MD
Of note in the announcement of the series is that the home video release will commence following the airing of the first episode, as the first volume will be released on October 13th and subsequent volumes will be released every other week. The Blu-Ray box set will be released on December 13th with an 11th episode that will be exclusive to that set.