First part "Ketsubetsu, Yamainu no Chikai" hits Japanese theaters December 2, 2017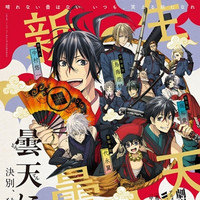 The official Twitter for the upcoming trilogy anime film adaptations of Donten ni Warau -Gaiden-, a three-volume spin-off series of Kemuri Karakara's fantasy action manga Donten ni Warau/Laughing Under the Clouds, today posted a "project visual" introducing its main characters.
As the visual shows, the trilogy features the main voice cast of the 2014 TV anime adaptation of the manga's original series Donten ni Warau, including the three Kumou brothers: Yuichi Nakamura (Tenka), Yuki Kaji (Soramaru), and Tsubasa Yonaga (Chutaro). Instead of the TV series' Doga Kobo, WIT STUDIO (Attack on Titan, The Ancient Magus' Bride) newly works on anime production of the three films.
【プロジェクトビジュアル&STAFF解禁!】『曇天に笑う<外伝>』3部作を飾る、プロジェクトビジュアルが完成さらに、若野哲也監督を始めとした曇天STAFF陣が解禁!新生曇天、華々しく始動です! (宣伝ポン)#曇天に笑う #曇天外伝 pic.twitter.com/BgBp0eprBN

— アニメ『曇天に笑う〈外伝〉』 公式 (@donten_anime) 2017年8月3日
As reported, its first part "Ketsubetsu, Yamainu no Chikai (Farewell, Yamainu's Oath)" is set to be released
on December 2, 2017. It is also announced today that the theater limited edition Blu-ray of the first part
and limited items featuring newly drawn illustrations by the manga author will be also sold at the theaters.
【劇場限定版 Blu-ray 販売決定!】上映期間中、各劇場にて限定特典付きの劇場限定版BDを販売!販売商品には、原作者・唐々煙先生による描き下ろしイラストを使用予定!上映劇場含め、詳細は追って公式HPで発表いたします!お楽しみに♩ (宣伝ポン)#曇天に笑う #曇天外伝 pic.twitter.com/VwKkgYbMJj

— アニメ『曇天に笑う〈外伝〉』 公式 (@donten_anime) 2017年8月3日
Advance tickets for the first part will be available at selected Animate stores in Japan from August 12.
The Animate-limited ticket comes with a clear file with a newly drawn illustration of Tenka.
【前売り券情報解禁!】アニメイト(一部店舗のみ)他、にて8/12(土)より『曇天に笑う<外伝> ~決別、犲の誓い~』アニメイト限定クリアファイル付前売り券の予約開始!今回初公開となる天火の新規イラストを使用要チェックです!(宣伝ポン)#曇天に笑う #曇天外伝 pic.twitter.com/SF2NkPa9dx

— アニメ『曇天に笑う〈外伝〉』 公式 (@donten_anime) 2017年8月3日
Newly-revealed scenes
【新規場面カット公開!】
さらに、今回は特別に新規場面カットも皆様にお届け!どんなシーンなのでしょう?見てからのお楽しみ!(宣伝ポン) #曇天に笑う #曇天外伝 pic.twitter.com/aPoM1Exjpt

— アニメ『曇天に笑う〈外伝〉』 公式 (@donten_anime) 2017年8月3日
Teaser for the first part
---
Announced Main Voice Cast:
Tenka Kumou: Yuichi Nakamura
Soramaru Kumou: Yuki Kaji
Chutaro Kumou: Tsubasa Yonaga
Abe no Sousei: Kosuke Toriumi
Seiichirou Takamine: Hiroki Yasumoto
Kiiko Sasaki: Sayaka Ohara
Mutsuki Ashiya: Yuuki Fujiwara
Zenzou Inukai: Takahiro Fujiwara
Chenran Shi: Hiroshi Iwasaki
Rakuchou Takeda: Hiro Shimono
Abe no Hirari: Kenichi Suzumura
Botan: Rina Sato
Nishiki: Mamiko Noto
Shirasu Kinjou: Takahiro Sakurai
Taiko Kumou: Toru Ohkawa
Koyuki Kumou: Fumiko Orikasa
---
"Donten ni Warau -Gaiden-" 1st and 2nd volume covers
Source: "Donten ni Warau Gaiden" anime film official website, Twitter
©karakarakemuri / MAG Garden