Yuichi Fukuda (Gintama)-directed film hits Japanese theaters October 21, 2017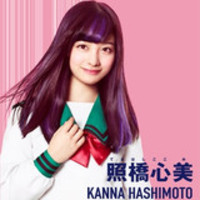 18-year-old actress Kanna Hashimoto posted a comment on her new film The Disastrous Life of Saiki K. on her official Twitter today. She is cast as the main heroine Kokomi Teruhashi in the live-action film adaptation of Shuichi Asou's comedy manga series to be released in Japan on October 21, 2017.
The guy in her twitter photo below is Yuichi Fukuda, the director of the film. The Disastrous Life of Saiki K. is the second film for Hashimoto to work with Fukuda, following the recently-released live-action adaptation of Hideaki Sorachi's Gintama comedy manga, in which she played the main heroine Kagura.
"I've just attended an after voice recording session for The Disastrous Life of Saiki K.!
To be honest, everyone,
Don't watch this film.
If you do, you will be surprised for various reasons.
I can't help but feel frightened about the release.
I have never felt like this before.
Everyone, please schedule something on October 21 before it's too late."
#斉木楠雄のΨ難 のアフレコしてきましたー!
正直この映画
皆さん、観ないで下さい。
観たら色んな意味でびっくりします。
私は公開が怖くて仕方ないです。
この感覚は初めてです。
皆さん今のうちに10月21日に予定をいれておいて下さい。 pic.twitter.com/nk3ziZnES5

— 橋本環奈 (@H_KANNA_0203) 2017年8月3日
Then the manga author reacted.
((((;゚Д゚)))) https://t.co/iRCpa8PFoL

— 麻生周一 (@shu1aso) 2017年8月3日
---
Kanna Hashimoto as Kokomi Teruhashi
【キャラクター紹介:照橋心美】
神様からも愛される才色兼備の完璧美少女でPK学園のアイドル本人も自覚しており「完璧美少女」に見られるための努力は惜しまない。
彼女を見た男子は思わず「おっふ」と声を上げてしまう。唯一、「おっふ」してくれない斉木に惹かれている。#斉木楠雄のΨ難 pic.twitter.com/FMig79OTZL

— 映画『斉木楠雄のΨ難』公式 (@saikikusuomovie) 2017年5月23日
New poster visual
\新ポスタービジュアル解禁/
山﨑さん演じる斉木をはじめ、やっかいすぎる仲間が大集合のポスターが完成‼

「やれやれ、たかが文化祭で、地球滅亡の危機とはな。」

一体何が起こっちゃうのでしょう恋友情そして超能力が吹き荒れる 難だらけの文化祭へ、ぜひ‼#斉木楠雄のΨ難 pic.twitter.com/F8lqUA5gmf

— 映画『斉木楠雄のΨ難』公式 (@saikikusuomovie) July 6, 2017
Trailer
Source: Kanna Hashimoto official Twitter
(C)Shuichi Asou/Shueisha, 2017 Movie "The Disastrous Life of Saiki K." Production Committee