The possibility for the planned sequels is now doubtful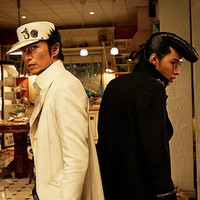 JoJo's Bizarre Adventure: Diamond Is Unbreakable Chapter I, the live-action film adaptation of the fourth story arc of Hirohiko Araki's long-running JoJo's Bizarre Adventure manga series, was finally released in 323 theaters across Japan on August 4. Despite the high anticipation based on the manga's strong popularity, the 56-year-old Takashi Miike-directed film earned a disappointing 166 million yen on 117,000 admissions and ranked only 5th in its first weekend box office.
The poor first weekend gross was only 30 percent of that of Gintama released three weeks ago, another live-action film adaptation of a popular Shonen Jump manga series. Unfortunately, but as expected, this is the third straight box office failure for director Miike on directing a live-action film based on a popular manga, following Terra Formars (2016) and Blade of the Immortal (2017).
JoJo's Bizarre Adventure: Diamond Is Unbreakable Chapter I was expected to be a box office hit,
considering the fact that it is based on Araki's very popular manga series and that the recent TV anime
adaptation of the same fourth arc was commercial and critical success in Japan. So what went wrong?
As the title suggests, the costly live-action film series has planned sequels, but judging from this opening
weekend result, the possibility is now doubtful.
Meanwhile, the live-action film adaptation of Hideaki Sorachi's action comedy manga Gintama still
continues its successful run in Japan. It is confirmed that the Yuichi Fukuda-directed film has sold an
impressive two million tickets in 23 days since its release, which is the fastest record for a Japanese
live-action film released this year. It has made 2.73 billion yen so far, and is projected to make at least
3.5 billion yen from its domestic run and to become the top-grossing Japanese film of this summer.
---
Weekend box office in Japan (August 5-6, 2017)
- ticket sales basis
1 (1). "Despicable Me 3"
2 (new). "Kamen Rider Ex-Aid the Movie: True Ending"
3 (new). "Transformers: The Last Knight"
4 (3). "Kimi no Suizou wo Tabetai"
5 (new). "JoJo's Bizarre Adventure: Diamond Is Unbreakable Chapter I"
6 (6). "Pokémon the Movie 20: I Choose You!"
7 (2). "The Mummy"
8 (4). "Gintama"
9 (7). "Pirates of the Caribbean: Dead Men Tell No Tales"
10 (8). "Mary and The Witch's Flower"
---
"JoJo's Bizarre Adventure: Diamond Is Unbreakable Chapter I" English version trailer
Souce: Eiga.com, Movie Walker