The author's manga works have printed 200 million copies worldwide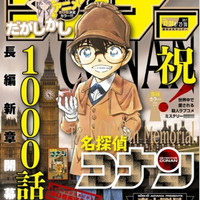 In the latest 37th/38th combined issue of Shogakukan's Weekly Shonen Sunday released today in Japan, 54-year-old manga artist Gosho Aoyama's representative mystery manga series Meitantei Conan/Detective Conan (or Case Closed in some countries) reaches its memorial 1,000th chapter. It also becomes the first title to run for more than 1,000 chapters in the 58-year-old manga magazine. To commemorate the record, the issue opens with color pages of the chapter, which is the first time in three years for the manga.
Aoyama's most successful and internationally famous series has been serialized in the magazine since January 1994 and has released 93 tankobon volumes in Japan so far. As reported in April, his manga titles including Conan have printed over 200 million copies worldwide.
Weekly Shonen Sunday 37th/38th combined issue digital edition cover
(the art is inspired by the manga's tankobon 1st volume cover)
"Meitantei Conan" 1st (June 1994) and 93rd volume (July 2017)
Source: Web Sunday
© Gosho Aoyama/Shogakukan