Third TV anime adaptation is now available on Crunchyroll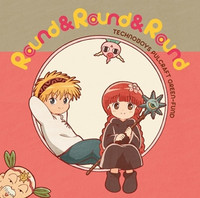 Following the previously-introduced OP song "Trip Trip Trip" by ORESAMA, Lantis has also posted a four-minute full music video for "Round&Round&Round," the ED theme song for the ongoing new TV anime adaptation of Hiroyuki Eto's Mahojin Guru Guru/MAGICAL CIRCLE GURU-GURU gag manga, performed by TECHNOBOYS PULCRAFT GREEN-FUND feat. Bonjour Suzuki.
TECHNOBOYS PULCRAFT GREEN-FUND is a three-member Japanese techno electronica group formed in 1994, and has provided soundtrack music for many TV anime series, including Witch Craft Works and Trinity Seven. They are currently working on Kakegurui and Fate/kaleid liner Prisma Illya: Oath Under Snow.
Bonjour Suzuki is a female singer-songwriter who started her singing career by posting videos on YouTube and Nico Nico Douga in 2014. As a professional singer, she has performed theme songs for
Yurikuma Arashi, Sekkou Boys, Kumamiko, and Space Patrol Luluco. The CD single of "Round&
Round&Round" will be released in Japan on August 9, simultaneously with Suzuki's 17-song 1st
best album "The Best of Bonjour Suzuki."
"Round&Round&Round" MV
Preview video with s short skit
CD jacket illustration
TECHNOBOYS PULCRAFT GREEN-FUND feat. Bonjour Suzuki
---
The third TV anime MAGICAL CIRCLE GURU-GURU is now available to Crunchyroll members worldwide except Asia.
OP song "Trip Trip Trip" MV
"MAGICAL CIRCLE GURU-GURU" key visual
Source: Bonjour Suzuki official website
© 2.5D PRODUCTION
© Hiroyuki Eto/SQUARE ENIX, MAGICAL CIRCLE GURU-GURU Project