Shinobu Tagashira (DIABOLIK LOVERS) serves as Director/character designer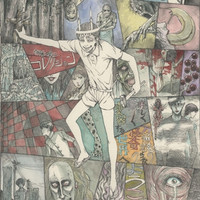 The upcoming TV anime based on internationally acclaimed Japanese artist Junji Ito (Gyo, Uzumaki, Tomie)'s horror manga stories, is confirmed to be aired in the winter of 2018 under the title Junji Ito Collection, and its teaser site opened with a concept visual at 02::22 (Ushimitsudoki/the dead of night) on August 10.
Junji Ito Collection is animated by Tokyo-based studio Studio Deen (KonoSuba: God's Blessing on this Wonderful World!), and Shinobu Tagashira (DIABOLIK LOVERS) serves as director and character designer. She has been a big fan of Ito's horror manga stories and has wished to make their anime adaptations by herself.
Concept visual drawn by director Shinobu Tagashira
Comment from Shinobu Tagashira:
"My dream has turned into my goal, then a miracle happens. Now I am able to make anime adaptations
of the manga series that I have fell in love since my teenage years by my own hands. I have already
imagined how I should animate them in various ways. I am a truly happy person that I can see it really
happening. I want to express my gratitude everyone who has supported me. I'm looking forward to working
with the anime staff members. And I would like to ask continued support from the fans of the manga series
who are looking forward to the anime. I will do my best to take the passion and spirits that Ito-sensei put
into the manga into the anime as well and to create a good horror story."
Comment from Junji Ito
"This time, a dream-like situation that my horror manga is adapted into a TV anime has happened. When
I was a child, I dreamed of anime adaptations of the manga works by Kazuo Umezu, Shinichi Koga and
Hideshi Hino, then I even made a flip book by myself based on some highlights from a work of Hino-sensei.
I think director Tagashira had the same kind of feeling that I had in my childhood when she launched this
anime project. I have already seen her concept visual and her love for the manga was surely conveyed.
I am already burning to see the completed anime. Please looking forward to it! Finally, I would like to
express my deepest gratitude to director Shinobu Tagashira who launched this wonderful project, and
to all of the members of the production committee who have worked so hard!"
Source: TV anime "Junji Ito collection" teaser site
(C) Ito Junji / Asahi Shimbun Publishing · Junji Ito "Collection" Production Committee