Susumu Kudo (Mardock Scramble) serves as director for ACGT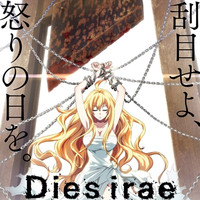 The official website for the upcoming TV anime based on light's battle adventure PC game series Dies irae is today updated with a new teaser visual featuring its main heroine Marie in chains with a tagline "Watch Close at the Angry Day."
It is announced that the ACGT-animated series is set to premiere on Tokyo MX at 25:05 on October 6, 2017, and will be simultaneously streamed on Abema TV. It is scheduled to be aired on BS11 every Monday at 24:05 and will be also streamed on other video streaming services.
As a part of the game company's 15th anniversary, a crowdfunding for the TV anime project was launched in May 2015. It collected 96,510,858 yen from 5,187 supporters in two months, becoming the highest funded crowdfunding project in Japan at the time.
New teaser visual
2nd PV
Main Staff:
Director: Susumu Kudou (Mardock Scramble, Minami Kamakura High School Girls Cycling Club)
Series Composition/Scenarios: Takashi Masada (original game series' scenario writer)
Anime Character Designer: Takaaki Fukuyo (Momokuri assistant animation director)
Music: Keishi Yonao (YU-NO:A girl who chants love at the bound of this world.)
Produce: Genco
Anime Production: ACGT (Minami Kamakura High School Girls Cycling Club)
Production: Dies irae ANIME PROJECT
---
The OP song "Kadenz" is performed by 36-year-old voice actress Yui Sakakibara, who has voiced the
main heroine Marie in the original game series and is set to reprise the character in the upcoming TV
anime as well.
The yet-titled ED song is performed by two-member voice actor unit Phero☆Men consisting of 45-year-old
Junichi Suwabe and 44-year-old Kousuke Toriumi. Suwabe voices Reinhard Heydrich, while Toriumi plays
the male protagonist Ren Fujii.
---
Ren Fujii (CV: Kousuke Toriumi)
Marie (Yui Sakakibara)
Kasumi Ayase (Ayaka Fukuhara)
Rea Himuro (Hitomi Nabatame)
Shirou Yusa (Takeshi Maeda)
Reinhard Heydrich (Junichi Suwabe)
Valeria Torifa (Ken Narita)
Wilhelm Ehrenburg (Kisho Taniyama)
Hotaru Sakurai (Kei Mizusawa)
Beatrice Waltrud von Kircheisen (Kei Mizusawa)
Rusałka Schwägerin (Yuka Inokuchi)
Eleonore Von Wittenburg (Asami Yaguchi)
Spinne (Kouki Harasawa)
Riza Brenner (Risato Habuki)
Wolfgang Schreiber (Yuuki Tamaki)
Mercurius (Kousuke Toriumi)
Source: TV anime "Dies irae" official website
©light/Dies irae ANIME PROJECT