Novas skins do pacote Star Guardians devem chegar dia 8 de setembro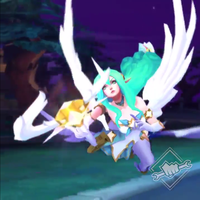 O canal de YouTube oficial de League of Legends do Japão postou um vídeo teaser para as novas skins do pacote Star Guardians. Dessa vez os campeões Ezreal, Ahri, Syndra, Soraka e Miss Fortune também vão receber os novos visuais. Antes, apenas as campeãs Lux, Janna, Poppy, Lulu e Jinx possuiam as skins temáticas.
O vídeo se passa no Japão atual, narrado pela dubladora da personagem Lux, contando sua história. Anteriormente, o teaser mostrava a data 8 de setembro (que, adaptando para nosso fuso horário, seria dia 7 de setembro), mas que depois foi removida. Especula-se que seja o dia do lançamento das skins, mas também pode ser apenas o dia que serão lançadas mais informações.
Confira o teaser abaixo:
Star Guardians (antes traduzido como Guardiãs Estelares mas, com a adição de Ezreal, deve ficar como Guardiões Estelares) faz uma grande referência à diversos animes e mangás do universo de garotas mágicas (ou mahou shoujo), como as obras Mahou Shoujo Madoka Magica (ou Puella Magi Madoka Magica) e o mais recente sucesso Sailor Moon Crystal.
Você pode conferir o anime Sailor Moon Crystal aqui, na Crunchyroll.pt!
FONTE: League of Legends Japan
---
Gabriel F Gonzales (ou apenas yushuu) é redator de notícias na Crunchyroll.pt, amante de livros e nerd desde criança. Pronuncie corretamente Cthulhu e siga-o no Twitter.