14,000-yen special items will be shipped in the middle of September 2017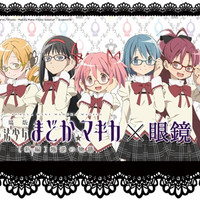 "Shitsuji Megane eyemirror" (Butler Glasses eyemirror)'s official online store will exclusively start accepting orders for collaboration glasses inspired by the five main girls from the 2013 film Puella Magi Madoka Magica the Movie: Rebellion: Madoka Kaname, Homura Akemi, Sayaka Miki, Mami Tomoe, and Kyoko Sakura, on August 19. The shop has offered various anime collaboration glasses since its opening in 2012, such as Fate/stay night[Unlimited Blade Works], Girls Und Panzer, Macross Frontier, BORUTO, and Mahou Girls PreCure!.
While no over-the-counter sales is planned, the five models will be displayed at the shop's booth (West 3 Hall 3232) in the industry section of the upcoming Comic Market 92 event to be held at Tokyo Big Sight from August 10 to 13. The price for the special collaboration item is 14,000 yen (about 127 US dollars) and it is scheduled to be shipped in the middle of September.
Madoka Kaname model
Homura Akemi model
Mami Tomoe model
Sayaka Miki model
Kyoko Sakura model
【劇場版 魔法少女まどか☆マギカ[新編]叛逆の物語 コラボメガネ 】

5人の魔法少女をイメージした、本格的メガネフレームとなります。
描き下ろし眼鏡拭きも付属。

8月19日受付開始
※14,000円
※度付き対応可能
※男女兼用https://t.co/PuNBsSbL0I pic.twitter.com/27EwgyBt1p

— 執事眼鏡eyemirror (企3232 (@eye_mirror) 2017年8月10日
執事眼鏡eyemirrorコミケ92企業参加致します!(西3ホール 3232)

Fate/stay night[UBW]やガールズ&パンツァー、東方MEGANEのキャンセル分販売も行ないます。https://t.co/p9x1pVTqrv pic.twitter.com/A7cZauGD4r

— 執事眼鏡eyemirror (企3232 (@eye_mirror) 2017年7月18日
Source: DUO RINg press release
©Magica Quartet/Aniplex・Madoka Movie Project Rebellion