Doraemon, Yo-kai Watch, Sword Art Online are also successful in the domestic box office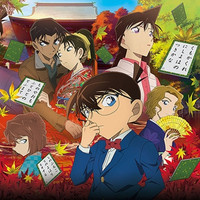 According to the box office top 10 rankings reported by Bunkatsushinsha today, the 21st Detective Conan feature film Karakurenai no Love Letter/Crimson Love Letter released on April 15 is confirmed as the top-grossing Japanese film in the first half of 2017.
The 112-minute film earned an impressive 6.87 billion yen from its total domestic run, and also became the most successful film in the Conan film series, surpassing the 20th film Pure Black Nightmare (6.33 billion yen) in 2016. The film series has been renewing the box office record for five consecutive years since the 17th film Private Eye in the Distant Sea (3.63 billion yen) in 2013.
Box office top 10 in the first half of 2017 (Japanese film only)
1. "Detective Conan: Crimson Love Letter" - 6.87 billion yen
2. "Doraemon the Movie 2017: Great Adventure in the Antarctic Kachi Kochi" - 4.43 billion yen
3. "Yo-kai Watch: Soratobu Kujira to Double no Sekai no Daibouken da Nyan!" - 3.26 billion yen
4. "Sword Art Online The Movie: Ordinal Scale" - 2.5~2.6 billion yen
5. "A Man Called Pirate" - 2.37 billion yen
6. "Confession of Murder" - 2.34 billion yen
7. "Hirugao" - 2.23 billion yen
8. "Aibou: The Movie IV" - 1.92 billion yen
9. "Teiichi: Battle of Supreme High" - 1,92 billion yen
10. "Tomorrow I Will Date With Yesterday's You" - 1.85 billion yen
2017年上半期邦画1位は『コナン』!5年連続のシリーズ最高興収更新で強さ - 上半期邦画ランキング #ランキング #邦画 https://t.co/x1rYFEm7Om pic.twitter.com/QlBKEbVNwE

— シネマトゥデイ (@cinematoday) 2017年8月14日
Box office top 10 in the first half of 2017 (Japanese/foreign film combined)
1. "Beauty and the Beast" - 12.5 billion yen
2. "Fantastic Beasts and Where to Find Them" - 7.3 billion yen
3. "Detective Conan: Crimson Love Letter" - 6.87 billion yen
4. "Moana" - 5.15 billion yen
5. "Sing" - 5.1~5.2 billion yen
6. "Rogue One: A Star Wars Story" - 4.63 billion yen
7. "Doraemon the Movie 2017: Great Adventure in the Antarctic Kachi Kochi" - 4.43 billion yen
8. "La La Land" - 4.4 billion yen
9. "Resident Evil: The Final Chapter" - 4.27 billion yen
10. "The Fate of the Furious" - 4.1~4.2 billion yen
上半期興収1位は『美女と野獣』!ベストテン中8本に洋画 - 上半期映画ランキング #ランキング #総合 https://t.co/iHMMmOoBTz pic.twitter.com/1C1TwLFwpO

— シネマトゥデイ (@cinematoday) 2017年8月13日