August 25-27 at the Santa Clara Convention Center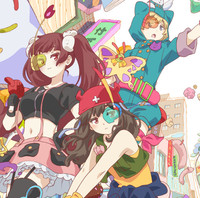 The ever-growing roster of guests set for Crunchyroll Expo gets a +3 today as Mugi Tanaka and Amica Kubo from the upcoming URAHARA anime are set to appear in person alongside artist and YouTube animator Domics! Read on for more info!
Mugi Tanaka ( URAHARA )
Since 2014, Mugi Tanaka, aka Oplant, has been creating original character illustrations for the otaku goods and apparel shop PARK, located in Tokyo's Harajuku district. Mugi is also the artist of the web comic "PARK Harajuku: Crisis Team!" which is being adapted into the upcoming anime series "URAHARA", set to stream on Crunchyroll in fall 2017. Her first art book, "URBAN", was distributed this summer at Comic Market in Japan, and will also be available at Crunchyroll Expo and online in the Crunchyroll Store.
Amica Kubo ( URAHARA )

Amica is a director and animator of short films and anime series from Japan. She graduated from
the head of the faculty of Art at Tokyo Polytechnic University in 2007. She has won many prizes
with her short animation film "Bloomed Words" , "WWF 100% RENEWABLE ENERGY" and
"ONED". She served the international jury of Ottawa International Animation Festival'08, and
Interfilm Berlin'14. She works as a director and animator of commercial animations for TV
programmes and promotional videos, and also as an illustrator, character designer, producer, and
is CEO of Super Milk Cow. In 2014, she launched the Web portal of Japanese short animation,
tampen.jp, as its Chief Editor.
Domics
Dominic, more commonly known as Domics on the internet, started off drawing web comics on Tumblr in 2010 and then got into animation in 2012 when he began uploading to youtube. His 2D animations often consist of humorous skits, or stories from his everyday life.