A-1 Pictures-animates series is set to premiere in April 2018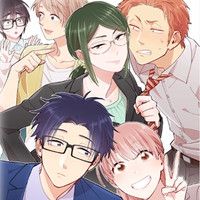 While publisher Ichijinsha didn't participate in officially, two version PVs for the TV anime adaptation of Fujita's love story manga Wotaku ni Koi ha Muzukashii (It's Difficult to Love an Otaku) were screened at the booths of Noitamina Shop and Aniplex in the Comic Market 92 event. The two clips narrated by Arisa Date (as Narumi Momose) and Kento Ito (as Hirotaka Nifuji) are now also streamed on the publisher's official YouTube channel.
As reported, the TV anime project was revealed on the screen of the Shinjuku Alta Vision in Tokyo on July 20. It is set to premiere in Fuji TV's Noitamina programming block in April 2018. A-1 Pictures works on anime production.
The manga telling the love story between two deep otaku (Narumi is a so-called fujyoshi, while Hirotaka is a gamer) was first posted onto Pixiv, the largest Japanese online community for artists in
2014, then has been serialized on Pixiv and Ichijinsha's co-operated web comic site comic POOl since
November 2015. Ichijinsha has released four tankobon volumes and the series has printed a total of
4.2 million copies in Japan by the end of July.
"Wotaku ni Koi ha Muzukashii" Comic Market 92 PV for Noitamina Shop Booth
【ヲタクに恋は難しい/一迅社宣伝】
コミックマーケット92で放送した「ヲタ恋PV」の新作を…会場で見れなかった皆様の為にUPします!
こちらが、ノイタミナショップさんver.です、はいドン!https://t.co/MdEiZOTh4L#ヲタ恋 #ライネンヲタコイノイタミナ pic.twitter.com/0D5NOsh8JO

— 一迅社の宣伝課です。 (@ichijinsha_info) 2017年8月14日
"Wotaku ni Koi ha Muzukashii" Comic Market 92 PV for Aniplex Booth
【ヲタクに恋は難しい/一迅社宣伝】
はい、次はノイタミナショップさんから移動してきた成海・宏嵩がお届けする!
コミックマーケット92「ヲタ恋PV」アニプレックスさんver.ですはいドン!ドン!!https://t.co/bs7uWLSAY4#ヲタ恋 #圧倒的感謝 #僥倖 pic.twitter.com/tnEi82hhks

— 一迅社の宣伝課です。 (@ichijinsha_info) 2017年8月14日
1st and 2nd volume
3rd and 4th
Source: Ichijinsha official PR Twitter
(C)Fujita/Ichijinsha