The film's DVD has also taken No.1 for three weeks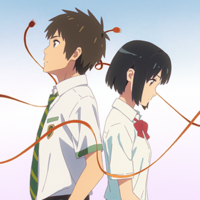 According to the latest Oricon report, all three Blu-rays of Makoto Shinkai's monster hit anime film Kimi no Na wa./Your Name. still ranked in the top 10 sales charts in its third week of release. Its standard edition ranked 2nd, along with its special edition in 5th and Collector's edition in 6th.
It became the first title to achieve the record (three edition Blu-rays in the top 10 for three consecutive weeks) in the history of the Oricon charts since July 2008. In addition, the film's DVD has taken No.1 in the overall sales chart for three weeks. The total sales number of the DVD/Blu-ray discs in three weeks now reaches 751,798 units.
The 107-minute film was released in Japan on August 26, 2016, and earned 25.03 billion yen from its domestic run, becoming the second-highest grossing film of all-time in Japan.
"Your Name." DVD/Blu-ray sales: first week (July 24-30)/second week (July 31-August 6)/third week (August7-13)
Blu-ray standard edition - 202,000/25,000/13,000 (total: 240,000 units)
Blu-ray collector's edition 4K Ultra HD - 126,000/6,000/2,658 (134,658 units)
Blu-ray special edition - 94,000/7,000/3,140 (104,140 units)
DVD standard edition - 216,000/39,000/21,000 (276,000 units)
Poster visual
©2016 "Your Name." Production Committee
Source: Oricon News