Meanhwile, "THE GUNDAM BASE TOKYO" will open this Saturday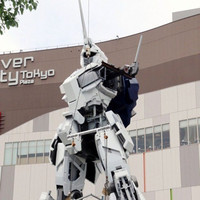 Japanese entertainment news site Mantan Web today posted photos of the life-size (about 24 meters) statue of RX-0 Unicorn Gundam from the Mobile Suite Unicorn Gundam OVA series standing in the front of Diver City Tokyo in Odaiba, which is now under construction for completion in fall of 2017.
While the teaser visual released in March of this year showed its Destroy Mode, the actual statue is currently building in Unicorn Mode, whose antennas from the forehead are folded. At the same place, the statue of RX-78-2 Gundam was displayed from April 2012 to March 2017.
You can check more photos of the Unicon Gundam statue on Mantan Web.
ガンダム:台場のUCガンダム建造中 一本角も! https://t.co/xfSPvFOncl pic.twitter.com/kMexyISTWP

— MANTANWEB (まんたんウェブ) (@mantanweb) 2017年8月17日
---
Meanwhile, instead of the Gundam Front museum that was closed in April, THE GUNDAM BASE TOKYO,
a new general facility dedicated to Bandai's Gundam plamodel kits, will open on the 7th floor of Diver City
this Saturday, August 19. The 600-tubo (about 1,980 square meters) facility displays over 2,000 Gundam
plamodels that are currently available, and also has the "Builder's Zone" to enjoy assembling the kits, the
"Factory Zone" to show the metal molds of the kits, and the "Event Zone" for various events and merchandise
sale. The admission is free.
ガンプラ:国内初の総合施設「THE GUNDAM BASE TOKYO」 "ほぼすべて"2000種類ずらり https://t.co/DIONfQlKjD pic.twitter.com/1uyFWfozcF

— MANTANWEB (まんたんウェブ) (@mantanweb) 2017年8月17日
ガンダムベース東京、いよいよ8/19グランドオープン!たくさんのガンプラを揃えてお待ちしております!#ガンダム #ガンダムベース東京#gundambasetokyo pic.twitter.com/Kt4yzbZVVI

— Gundam Base Tokyo (@gundambase_t) 2017年8月17日
静岡ホビーセンターをイメージしたブースは見ているだけでワクワクします!お楽しみに!#ガンダム #ガンダムベース東京 #gundambasetokyo pic.twitter.com/OOYuiEdC7y

— Gundam Base Tokyo (@gundambase_t) 2017年8月17日
Source: Mantan Web 1, 2, THE GUNDAM BASE TOKYO official Twitter