Platinum Vision-animated latest adaptation is now available on Crunchyroll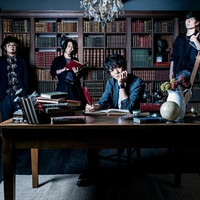 Four-member Japanese rock band Luck Life has posted a full version music video for their upcoming 4th major single song "Refrain" to be released on August 23 on their record company Lantis' official YouTube channel. The song is featured as the ED theme for the ongoing TV anime SAIYUKI RELOAD BLAST.
The Osaka-born band made their major debut from Lantis in May 2016, and all of their previous three single songs were used as a TV anime theme: 1st single "Namae wo Yobuyo" (May 11, 2016/Bungo Stray Dogs 1st ED), 2nd single "Hajime no Ippo" (July 27, 2016/Cheer Boys!! OP), and 3rd single "Kaze ga Fukumachi" (November 2, 2016/Bungo Stray Dogs 2nd ED).
The TV anime adaptation of Kazuya Minekura's adventure manga Saiyuki Reload Blast premiered in Japan on July 5 and has been also available to Crunchyroll members worldwide except Asia.
"Refrain" MV
CD jacket
Artist photo
【チケット情報!】
『ラックライフ 2017-2018 〜Change The World TOUR〜』プレリザーブ先行チケットがぴあにて受付開始!

受付期間
『8/12(土)10:00〜8/15(火)23:59』

詳細はラックライフのHPをチェック!#ラックライフ pic.twitter.com/obDdSJRkKi

— ラックライフ (@lucklife_info) 2017年8月12日
---
"SAIYUKI RELOAD BLASTSaiyuki Reload Blast" 2nd PV
Key Viusual
Source: Luck Life official website
© lucklife All rights reserved.
© Kazuya Minekura, Ichijinsha/Saiyuki RB Project