July contest invited users to draw monsters for a trip to XFLAG PARK and XFLAG Store in Tokyo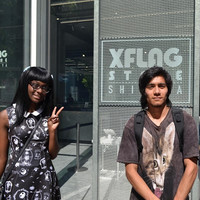 This past July, Crunchyroll invited members to draw their own monsters or draw the monsters from Monster Strike in order to win a trip to Japan to visit the Monster Strike Symphony and Monster Sonic! Live shows at XFLAG PARK in Tokyo, as well as visiting the XFLAG Store which features a Monster Strike themed cafe inside.
Below are some pictures of the store and the respective live shows, which featured a live orchestra performing arrangements of selected sonngs featured in the series, as well as the Monster Sonic Live! show, which featured the in-series group Wicked Pistols debuting a new song, through the use of real-time 3D projection.
The winners visiting the XFLAG Store in Shibuya

Using the touch screen in the store to select merchandise

Awaiting a performance from the XFLAG Orchestra
The Orchestra performing
The winners were also given a chance to tour animation studio SANZIGEN to see how the Monster Strike anime is produced. Two videos are featured below detailing the winner's experiences with the theme park, store, live shows and studio tour.
The winners being walked through the production process for the Monster Strike anime
One of the winners interacting with the staff of the Monster Strike anime


The winners at Sanzigen after their tour
We sent winners of our Monster Strike Contest to the XFLAG Store in Japan!! pic.twitter.com/faq0MSEjK3

— Crunchyroll @CR Expo (@Crunchyroll) August 6, 2017
We sent two Crunchyroll users on a "monster" trip to Japan!! pic.twitter.com/N5MlRkf933

— Crunchyroll @CR Expo (@Crunchyroll) August 18, 2017
Congratulations to the winners! it looks like they had a great time in Japan thanks to Crunchyroll and mixi! If you haven't watched Monster Strike yet, watch it here every week on Crunchyroll!
©XFLAG ©mixi