Takashi Miike-directed film stayed in the box office top 10 just for one week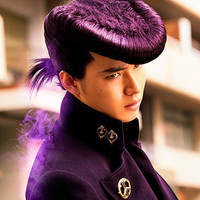 Just two weeks after its opening day in Japan, Warner Brothers Japan's official YouTube channel posted the first 13 minute from JoJo's Bizarre Adventure: Diamond Is Unbreakable Chapter I, introducing its main cast: Ryunosuke Kamiki as Koichi Hirose, Kento Yamazaki as Josuke Higashikata, Nana Komatsu as Yukako Yamagishi, and Yusuke Iseya as Jotaro Kujo.
The live-action film adaptation of the fourth story arc of Hirohiko Araki's long-running JoJo's Bizarre Adventure manga series, directed by 56-year-old Takashi Miike (Terra Formars, Blade of the Immortal), received wide release in 323 theaters across Japan on August 4. The 118-minute film earned a disappointing 166 million yen on 117,000 admissions and ranked only 5th in its first weekend box office, then quickly disappeared from the top 10 in its second weekend. While its actual box office gross has not yet been revealed, Jojo has been already considered as the biggest box office flop in this summer.
Poster visual
Souce: "JoJo's Bizarre Adventure: Diamond Is Unbreakable Chapter I" official website
(C) 2017 Movie "JoJo's Bizarre Adventure: Diamond Is Unbreakable Chapter I" production Committee
(C) LUCKY LAND COMMUNICATIONS/Shueisha