Hatsune Miku code will be available in the arcade game on October 5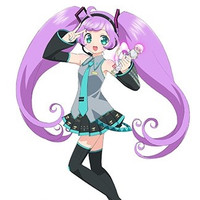 The official Twitter for Takara Tommy Arts' PriPara franchise announced today on August 19 that a new collaboration project between the ongoing series Idol Time PriPara and the most popular vocaloid character Hatsune Miku will launch this fall.
First, the iconic Hatsune Miku costume (code) will be available in the arcade game's next "Time Yondan" session that will begin on October 5, and players will be able to use the code with the song "GoGo! PriPalife" in the game. Second, a new Hatsune Miku code with the character image color of Falulu (a vocal doll character in the franchise) will be offered in November, and finally in December, Miku will join as a playable character in the game!
The trading card arcade game co-created by Takara Tommy Arts and Syn Sophia started its service in July 2014. In two years by June 2016, it attracted over three million registered users in Japan. The
first TV anime series based on the franchise aired for three seasons with 140 episodes from July 2014
to March 2017. It sequel series Idol Time PriPara has been aired since April of this year.
Lalaa Manaka and Yui Yumekawa in the Hatsune Miku costume
そしてもう一つユメ大きなニュースです!
ゲーム『プリパラ』とあの人気バーチャル・アイドル「初音ミク」とのコラボが決定しました!
10月5日(木)よりスタートする「タイム4弾」から、『GoGo!プリパライフ』の「初音ミクver.」で遊べるようになります♪ #pripara pic.twitter.com/LSPiF0BkRO

— アニメ「プリパラ」公式アカウント (@pripara_PR) 2017年8月19日
10月5日(木)からのゲーム「タイム4弾」では「初音ミク」限定コーデ、11月にはボーカルドール「ファルル」のイメージにカラーチェンジしたコーデが登場!さらに12月には「初音ミク」がプレイアブルキャラクターとして期間限定登場する予定です!
夢のコラボをお楽しみに♡ #pripara pic.twitter.com/jtoBMmQTBx

— アニメ「プリパラ」公式アカウント (@pripara_PR) 2017年8月19日
"Idol Time PriPara" arcade game PV - How to Play
"Idol Time PriPara" arcade game PV - How to Create My Chara
Source: "PriPra" franchise official Twitter
(C)T-ARTS/syn Sophia/TV Tokyo/IPP Production Committee
(C)Crypton Future Media, INC.www.piapro.net