"Cruising the Crunchy-Catalog" checks out a 2006 TV anime comedy with a relentlessly violent delivery girl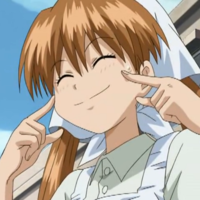 Order Up.
Online anime streaming is a virtual smorgasbord of choices, but you can't always tell just by looking at the buffet whether you'll like a particular dish or not. "Cruising the Crunchy-Catalog" is here to whet your appetite. Each week we provide additional information and cultural context in order to help anime fans decide whether or not they'd like to try out something new.
What's Ramen Fighter Miki?
Ramen Fighter Miki is a 2006 TV anime with direction by Nobuo Tomizawa and animation by Telecom Animation Film. The series is based on the Muteki Kanban Musume ("Invincible Poster Girl") manga by Jun Sadogawa, which was serialized from 2002 – 2007 in Akita Shoten's Weekly Shōnen Champion manga magazine. Crunchyroll descibes Ramen Fighter Miki as follows:
In a world where terror grips the land and innocents have no solace from violence and brutality, one girl walks the line between life and death to bring her own special brand of... Ramen! Miki Onimaru works at her parent's Ramen shop, making deliveries, waiting tables, and attracting customers with cute, girlish charm. Somehow, Miki can't complete even one of these simple tasks without the full employment of her extensive bone-crunching, skull-splitting martial arts moves and penchant for unleashing relentless destruction. Can Miki get through the day without messing up and angering her Mom, who makes her look like a gentle kitten in comparison?
Ramen Fighter Miki is a comedy predicated on single premise: the main character, Miki Onimaru, is both singularly violent and terrible at her job. Although she works at her family's Chinese restaurant in an ordinary Japanese shopping center, Miki acts like she's the protagonist of Fist of the North Star, unleashing secret killer moves that get their own on-screen Kanji and generally terrorizing her neighbors at the grocery store and bakery.
A History of Violence.
Although Ramen Fighter Miki's brand of comedy primarily relies on a steady application of slapstick violence, the show also incorporates elements of parody, poking fun at such genre staples as martial arts films (complete with exaggerated techniques and training montages), horror movies, and youth sports dramas. There's even an episode that lampoons Super Sentai-style tokusatsu TV shows.
TV Safety.
Back when cathode ray televisions with a 4:3 aspect ratio were the industry standard, Japanese animation was produced such that the most important action was always within the center of a 4:3 frame. Anything outside of that area (which was referred to as "TV safety") wouldn't appear on camera in the final product, and so animators would often scribble things (production notes, doodles, dirty jokes) in the margins of the cels.
With the rise of LCD and plasma screen televisions with widescreen aspect ratios, some of the sight gags in Ramen Fighter Miki don't quite translate. One running joke involves the character of Tomoka Kayahara, a kind-hearted teacher whose sour expression causes people to mistake her for a vengeful spirit. When Tomoka appears, she's accompanied by the kind of glitches and distortion that indicate electromagneticl interference in a cathode ray projector. Modern TVs don't really glitch in that manner.
Expect the Unexpected.
Although Ramen Fighter Miki is completely dedicated to its bizarre premise and Miki's total warfare with childhood friends and the neighborhood dog make up the bulk of the humor, the show also keeps its comedy fresh by playing fast and loose with the audience's expectations. Many jokes seem to be going in one direction, only to swerve at the last moment into completely tangential absurdity.
Tune In, Turn On, Take Out.
Crunchyroll currently streams Ramen Fighter Miki in the United States, Canada, Puerto Rico, American Samoa, Guam, the US Virgin Islands, and the United States Minor Outlying Islands. The series is available in the original Japanese language with English subtitles.
Ramen Fighter Miki was also released on DVD in North America by Media Blasters under their Anime Works label, and an English language version of the original Muteki Kanban Musume manga was published by ADV Manga under the title Noodle Fighter Miki, but these releases are now out-of-print.
Comedy can be an acquired taste, but each episode of Ramen Fighter Miki is easily digested and likely to leave viewers hungry for more. If you're in the mood for a heaping helping of humorous violence topped with thoroughly foolish characters turning the ordinary and the everyday into the extraordinary and the bizarre, please consider giving Ramen Fighter Miki a try.
Is there a series in Crunchyroll's catalog that you think needs some more love and attention? Please send in your suggestions via e-mail to [email protected] or post a Tweet to @gooberzilla. Your pick could inspire the next installment of "Cruising the Crunchy-Catalog"!
Paul Chapman is the host of The Greatest Movie EVER! Podcast and GME! Anime Fun Time.