Masaharu Okuwaki (Kirarin Revolution)-directed series is now available on Crunchyroll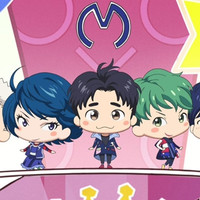 The official Japanese website for the ongoing TV anime adaptation of Ikura Sugimoto's high school quiz competition-themed manga Nanamaru Sanbatsu/Fastest Finger First today announced that the five members of Mrs. Green Apple, the band performing the anime's OP song "On My MiND," will voice anime characters inspired by themselves in the mini bonus part of the upcoming 10th episode to be aired on September 5.
The anime's each episode has included a 30-second bonus part to explain basic rules and enjoyment of the high school quiz competition, hosted by a MC character voiced by Nihon TV's male announcer Taichi Masu. In the mini part for the 10th episode, the five members will voice high school-age characters with their first names: Motoki (Motoki Omori/vocal, guitar), Hiroto (Hiroto Wakai/guitar,), Ayaka (Ayaka Yamanaka/drums), Ryoka (Ryoka Fujisawa/keyboards), and Kiyokazu (Kiyokazu Takano/bass). This is, of course, their first anime voice acting.
#ナナマルサンバツ 第10話ミニアニメパートにMrs. GREEN APPLEのメンバーたちが、主人公たちと同じ″高校生"になって登場! 声優初挑戦です!

Mrs. GREEN APPLE 大森さんコメントはこちら!https://t.co/BoX8IAtrtm pic.twitter.com/RfPsMRNq5d

— アニメ「ナナマル サンバツ」公式 (@7o3x_anime) 2017年8月20日
The band was formed in 2013 and made their major debut from EMI Records in December 2015 releasing
their 1st single "Speaking," which was used as the 4th ED song for the Yu-Gi-Oh! Arc-V TV anime. "On My
MiND" will be included in the band's 5th single "WanteD! WanteD!" to be released on August 31.
Mrs. Green Apple artist photo
---
The TV anime Nanamaru Sanbatsu/Fastest Finger First, directed by Masaharu Okuwaki (Kirarin Revolution,
Age 12: A Little Heart-Pounding) and animated by TMS Entertainment, premiered in Japan on July 4, and has
been also availabe to Crunchyroll members worldwide except for Asia.
PV featuring the OP song
Key visual
Source: TV anime "Nanamaru Sanbatsu" official website
© Ikura Sugimoto/KADOKAWA/7○3× Q
© 2017 Mrs. GREEN APPLE All Rights Reserved.