Shaft's time loop-themed anime feature has received mixed reviews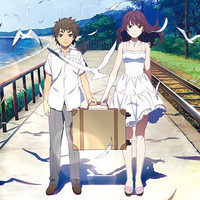 The anime film adaptation of internationally acclaimed Japanese director Shunji Iwai's 1993 TV drama Uchiage Hanabi, Uekara Miruka Shitakara Miruka?/Fireworks, Should We See It from the Side or the Bottom? opened in 298 theaters across Japan on August 18, delivering 295 million yen from the 220,000 ticket sales in its opening weekend.
The first weekend gross was 31.7% of that of Makoto Shinkai's Kimi no Na wa./Your Name. released in 296 theaters in August 2016, also distributed by Toho. Uchiage Hanabi earned a good 170 million yen in its opening day, but failed to draw the same amount of audience on Sunday. It is expected to finish its domestic run with around 2 billion yen.
The Shaft-animated time loop-themed film has been seemingly received mixed reviews from the
audience and critics. According to Pia's first day satisfaction ranking, it ranked only 8th with 77.9%
rating, and it didn't make it to top 4 in Filmarks' same kind of ranking.
The anime film edition is directed by Nobuyuki Takeuchi, who has worked as visual and production
designer for Shaft's Monogatari series, on a screenplay by Hiroshi Oune (Moteki, Bakuman. live-action
film director). Akiyuki Shinbo (Puella Magi Madoka Magica) serves as general director.
---
Weekend box office in Japan (August 19-20, 2017)
- ticket sales basis
1 (new). "HiGH&LOW THE MOVIE 2 END OF SKY"
2 (1). "Despicable Me 3"
3 (new). "Fireworks, Should We See It from the Side or the Bottom?"
4 (2). "Spider-Man: Homecoming"
5 (3). "I Want to Eat Your Pancreas"
6 (4). "Pokémon the Movie 20: I Choose You!"
7 (5). "Transformers: The Last Knight"
8 (6). "Gintama"
9 (9). "Mary and The Witch's Flower"
10 (8). "Kamen Rider Ex-Aid the Movie: True Ending"
"Fireworks, Should We See It from the Side or the Bottom?" trailer
Source: Eiga.com, Movei Walker
©2017 "Uchiage Hanabi, Uekara Miruka Shitakara Miruka?" Production Committee