Third TV anime adaptation is now available on Crunchyroll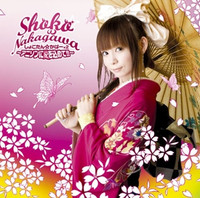 The official Japanese website for the ongoing new TV anime adaptation of Hiroyuki Eto's Mahojin Guru Guru/MAGICAL CIRCLE GURU-GURU gag manga announced today on August 23 that 32-year-old actress/singer/otaku idol Shoko Nakagawa, aka Shokotan, will sing the new ED song "Magical Circle" for its upcoming second cour.
As with the first cour's "Round&Round&Round" sung by Bonjour Suzuki, Shokotan collaborates with three-member Japanese techno electronica unit TECHNOBOYS PULCRAFT GREEN-FUND. Under the artist name "TECHNOBOYS PULCRAFT GREEN-FUND feat. Nakagawa Shoko," "Magical Circle" is set to be released in Japan on November 15.
Shokotan has posted her joyful comment on her official Twitter as below:
"Yattaaaaaaaaa. I am decided to sing the new ED song for Mahojin Guru Guru!! The song really expresses
Kukuri-chan and the world of Guru Guru! I am glad that I have lived so long. If tell this news to myself
when I was drawing a magic square in a park, what kind of face would she show me!!!?
Banzai! Banzai! Yattaaaaaaaaa."
やったあああああああああああ
魔法陣グルグル エンディングテーマ決定しました!!
ククリちゃんとグルグルの世界を思い切りあらわした曲!
長く生きてきてよかった
公園で魔法陣描いていたあの頃のわたしに教えたらどんな顔するんだろう!!!?
バンザイ!バンザイ!やったああああああ pic.twitter.com/SQlDZ8OjGg

— 中川翔子 (@shoko55mmts) 2017年8月22日
Shokotan has been known as a big fan of the series, and when the new TV anime premiered in July, she
posted a tribute art on her Twitter.
久しぶりに!あの頃以来に描いたかも!グルグル!

原作扉絵を模写して絵の具で塗って壁にはってました、10歳くらいのころ?
猫とドラクエ好きな子供に夢のようなアニメだった
なつかしい、、 pic.twitter.com/ADFeIKKnfk

— 中川翔子 (@shoko55mmts) July 11, 2017
---
The third TV anime MAGICAL CIRCLE GURU-GURU is now available to Crunchyroll members worldwide except Asia.
"MAGICAL CIRCLE GURU-GURU" key visual
Source: "MAGICAL CIRCLE GURU-GURU" official website, Shoko Nakagawa official Twitter
© 2.5D PRODUCTION
© Hiroyuki Eto/SQUARE ENIX, MAGICAL CIRCLE GURU-GURU Project