New saga to unfold in Monthly Gundam ACE.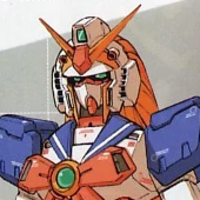 A sharp-eyed fan spotted the logo for a new Gundam series in the chutes: Mobile Suit Moon Gundam, with a fairly on-the-nose logo.
The moonlight is projected onto the latter part of the Universal Century.
A new Gundam saga is beginning!
Harutoshi Fukui (Gundam Unicorn) will be in charge of story, with Takayuki Kosai (Gundam MSV-R, Gundam Unicorn Testament) on board as artist. Iron Blooded Orphans mechanical designer Ippei Gyoubu will be responsible for the new series's mecha.
As expected, the somewhat familiar-styled logo has a few fans asking questions -- like whether Allenby of G Gundam's Nobel Gundam will be in the cockpit, or whether there will be a Tuxedo Zaku. Both are doubtful, but we'll find out one way or another when Mobile Suit Moon Gundam debuts in the November Monthly Gundam ACE, hitting newsttands September 25.
>> Gundam ACE Official Website
>> Watch Gundam Iron Blooded Orphans on Crunchyroll
Source: Otakomu.jp
-----