All series available today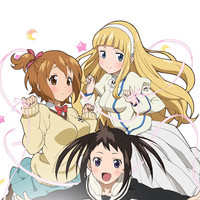 Crunchyroll continues to add fan favorite series from Funimation, and today is no exception, with Soul Eater Not! leading off today's additions. Unless otherwise noted, all of the additions are limited to the US and Canada.
Soul Eater Not! (4:30PM PDT)
Get ready to meet the newest class at Death Weapon Meister Academy! Tsugumi Harudori and her outrageous friends make up the NOT class at this stylish school dedicated to training living, breathing weapons and uniting them with the Meisters who'll wield them!
Ragnarok - The Animation (5:30PM PDT)
A great evil sweeps across the realm, and the young swordsman Roan, along with his life-long companion Yufa, must face it head on! As the two friends travel toward their destiny, they are joined by an ever-growing cast of heroes. The path they travel is rife with monsters, magic, and danger, but where there's a will—there's a way! Lessons lurk in the darkness, and the journey starts now!
.hack//SIGN (+OVA) (6:30PM PDT)
Tsukasa wakes up inside The World, a massive online role-playing game full of magic and monsters, and finds himself unable to log out. With no knowledge of what's happening in the real world, Tsukasa must discover how he ended up stuck in the game, and what connection he has with the fabled Key of the Twilight—an item that's rumored to grant ultimate control over the digital realm.
D.Gray-man (Season 1)
With an eye cursed to see evil and blessed with an arm to slay demons, Exorcist Allen Walker is humanity's greatest hope against the cruel Akuma. They lurk in every shadow, eager to do the bidding of their leader, the Millennium Earl.
This series will be available to members in the United States, Canada, United Kingdom, Ireland, and South Africa