First game in new deal to be released in 2018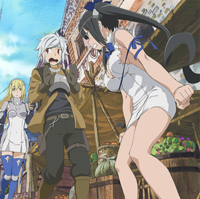 Japanese mobile game juggernaut GREE has announced a new agreement with Ellation, parent company of Crunchyroll that will see the developer work with the streaming portal to distribute and promote mobile games based off of selected anime titles licensed by the portal beginning in 2018.
The first title to be released and distributed under the new agreement will be the mobile game spinoff of hit anime "Is It Wrong to Try To Pick Up Girls In A Dungeon" titled "Is it Wrong to Try to Pick Up Girls in a Dungeon? MEMORIA FREESE". The game was released in Japan earlier this year in June and boasted three million downloads, as well as topping Japanese in-app purchase rankings on both the Apple App Store and Google Play in the first month. More details on the arrangement will be announced tomorrow during this weekend's inaugural Crunchyroll Expo.