El primero será "Is it Wrong to Try to Pick Up Girls in a Dungeon? MEMORIA FREESE".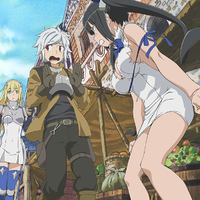 Crunchyroll se ha asociado con Sumitomo Corporation y GREE, Inc. para localizar y distribuir juegos basados en anime en el mercado occidental, comenzando por Norteamérica. Las tres compañías cooperarán utilizando Crunchyroll como plataforma de lanzamiento y las capacidades de GREE Como desarrolladora para expandir el mercado de los juegos de anime.
El primer proyecto será el juego para smartphones "Is it Wrong to Try to Pick Up Girls in a Dungeon? MEMORIA FREESE", el cual se lanzará a inicios de 2018. Este título es el primero para smartphones basado en el conocido anime Danmachi, habiéndose lanzado en junio de 2017 en Japón donde ha demostrado su éxito superando la barrera de los tres millones de descargas en solo un mes. Desde su lanzamiento ha sido un habitual de las listas de ventas tanto en Google Play como en la App Store. Danmachi se estrenaba en Crunchyroll en 2015.
El juego combina elementos de visual novel con una historia original en la que la acción toma forma de RPG de exploración y combates. También cuenta con un "modo interacción" en el que los jugadores pueden relacionarse con los personajes del juego y cambiar su vestimenta. El estudio J.C. Staff colaboró en el juego, el cual desarrolló el estudio Wright Flyer Studios de GREE.
GREE será la responsable de gestionar el copyright, planificar y desarrollar los juegos, mientras que Crunchyroll y Sumitomo Corporation se encargarán de colaboraborar en la promoción, distribución y localización de los mismos, los cuales gestionará la propia GREE.
Esta iniciativa aunará los conocimientos y la experiencia de Sumitomo Corporation, Crunchyroll y GREE para proporcionar al aficionado occidental una gran variedad de juegos para smartphones y PC basados en algunos de los animes más populares de los últimos tiempos.