Directed by Hiroki Shibazaki (Ouran High School Host Club assistant director)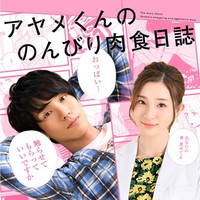 The official website for the upcoming live-action film adaptation of Mai Machi's Ayame-kun no Nonbiri Nikushoku Nisshi/The Diary about Ayame's Easygoing and Aggressive Days love comedy manga today released a 90-second full trailer for its October 17 release in Japan. Hiroki Shibazaki, who preniously worked as assistant director for the live-action film adaptation of Bisco Hatori's shoujo manga Ouran High School Host Club in 2012, makes his feature film directorial debut.
The clip also introduces the film's theme song "Distrance" sung by Fukuoka-born female singer edda for the first time. She will make her major debut from Victor Colorful Records with her 1st single "Tick-Tack" to be released on October 11. The single includes the theme song and an insert song for the film, "Mahou (Magic).
The manga has been serialized in Shodensha's Feel Young monthly manga magazine for young
females, and currently seven tankobon volumes are available in Japan. The story set at the laboratory
of the Department of Biology at "T" University, focusing on a little strange love relationship between
the dinosaur otaku protagonist Shun Ayame (Mario Kuroba) and his female senior student Tsubaki
(Rika Adachi), who is a skeletal maniac.
Trailer
映画「アヤメくんののんびり肉食日誌」の主題歌と挿入歌を、新進アーティスト「edda」が担当することが決まりました!
10月11日発売のメジャーデビューシングル「チクタク」にいずれも収録!https://t.co/wHNn7YDZtX#アヤメくん pic.twitter.com/qs8lFoHAWU

— 映画「アヤメくんののんびり肉食日誌」 (@ayamemovie) 2017年8月22日
Poster visual
Tankobon 1st and 7th volume covers
Source: "Ayame-kun no Nonbiri Nikushoku Nisshi" live-action film official website
©2017 Mai Machi/Shodensha/Movie "Ayame-kun no Nonbiri Nikushoku Nisshi" Production Committee