Gather 'round the Near-Future Crystal Ball of Anime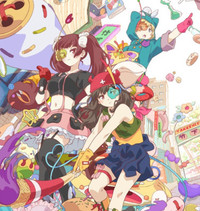 If you read Kara's day 1 recap, then you know Crunchyroll Expo kicked off with a serious bang. Following up that bang, however, was the cacophonous cannon blast that was DAY 2! That's right, more Hime, more insight from some of Japan's top talent, and, against all odds, even more anime!
For yours truly, the day started with a visit to Bandai Namco's Code Vein panel, which involved the unveiling of some fresh art and more gameplay details for the latest from the God Eater team. In short… it looks hot as hell, but we'll dig deeper into that at a later date.
Speaking of things we'll be digging into more soon, we hit up the Keiichi Sigsawa panel for further insight into his Kino's Journey novels, which are about to come to life again in the form of a new anime series. As previously reported, Kino's Journey -the Beautiful World - the Animated Series is set to debut this October, and yes, you'll be able to watch it on Crunchyroll.
Crunchyroll was, perhaps unsurprisingly, the topic of the next major panel, the Crunchyroll industry panel. For those who weren't able to make it, the meat of the show was a rundown of some of the current anime folks can enjoy now or in the not-too-distant future, from Restaurant to Another World to the Japanese dub of RWBY and Crunchyroll productions like Children of Ether.
There was also some hott VRV content on display, like the rad-looking Lastman, which had its official CRX premiere tonight.
Crunchyroll followed up the anime celebration with a little insight into its newly-announced gaming initiative, which kicks off soon with Is It Wrong to Try to Pick Up Girls in a Dungeon? Memoria Freese. This mobile entry features a new story, and Crunchyroll briefly invited the vice president of GREE to come up on stage and join in on the celebratory announcement.
And then it was time for some of the fall season goodies to look forward to. Here's a quick shotgun blast of what was on display:
Juni Taisen: Zodiac War, coming this October
Urahara, fall
Kino's Journey, fall
Recovery of an MMO Junkie, fall
Monster Strike, October
Black Clover, October
In the case of the hotly-anticipated Black Clover, Crunchyroll showed off a brand new PV that was literally hot out of the oven. Okay, it wasn't literally produced in an oven, but it had basically just been completed an hour prior to the show. For those who fancy themselves potential Wizard Kings, it was a real treat.
Now that I had Stan Lee's inimitable style of narration deeply branded into my brain courtesy of CR's promo for The Reflection, it was time for me to embark upon my own solo adventure. That's right, true believers, I had an appointment to speak with the producer and director behind Bandai Namco's upcoming action-RPG Code Vein, so look forward to more on that soon!
Meanwhile, back at Crunchyroll Expo, our very own bold EIC Patrick Macias hopped on stage to talk all things Urahara! Joining him for the spirited discussion—and the debut of the first animated promotional video—were character designer and illustrator Mugi Tanaka, main writer Natsuko Takahashi (who has a legendary anime résumé that will make your mama do a backflip), and series director Amica Kubo. Those in attendance were able to get some early insight into the story, characters, and the unique art style that powers its Harajuku-based theme of "Otaku x Fashion x Creation."
Look forward to this Crunchyroll production to make its debut this fall.
That wasn't the last we would hear from Mugi Tanaka, though, because she appeared on her own for a panel breaking down the trajectory of her career. How did this humble indie artist—driven by white-hot love for touhou fandom and doujinshi work—become the artist behind Urahara? Anime fans and aspiring creators alike were treated to her story, told with the roof-shaking level of bubbly energy and excitement that only Tanaka-san herself could possibly generate. Seriously, she could power an entire metropolis with her determination alone.
All of that was… but a fraction of the day. Talk to anyone else who as at Crunchyroll Expo on Saturday and you're sure to get a completely unique story, so my only regret is the lack of a Sands of Time-esque weapon to crank back the clock and hit up yet another enticing route.
I leave you with a pair of Guyver cosplayers who, in a crowded sea of excellent costumes, won this old dingus's heart.
If you're in the area, don't forget there's a whole 'nother day to enjoy, and you can still grab tickets for Sunday online.
-------
Joseph Luster is the Games and Web editor at Otaku USA Magazine. You can read his webcomic, BIG DUMB FIGHTING IDIOTS at subhumanzoids. Follow him on Twitter @Moldilox.