A Steam page has been posted and a Kickstarter update reports that it will be available through the digital distribution service September 18th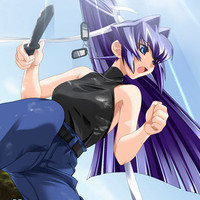 In 2015, the Kickstarter campaign for the original Muv-Luv visual novel trilogy ended up raising $1.2 million of its initial $250,000 goal, unlocking every stretch goal along the way. They've now gotten to the series' Muv Luv Alternative. A Steam page has been posted and a Kickstarter update reports that it will be available through the digital distribution service September 18th.
They add
for every amazing backers who have been wondering "Alternative When?", we're glad to announce that you can now play the game by grabbing your Steam codes from BackerKit!
If you haven't received your personal BackerKit link yet, simply visit muv-luv-a-pretty-sweet-visual-novel-series.backerkit.com/ and type the email you used to back Muv-Luv. If you haven't received any email within 24 hours, send us an email at [email protected] so we can send your private url manually. Please note that we'll be receiving lots of emails and may take some time to respond.
Switching Gears to PS Vita release
Now that the major goal of the Kickstarter has been completed, we can now resume PS Vita development of the trilogy. We apologize again for the severe delays, and like we said before, we'll fully commit to them and will get most of the items in our checklist done before the year ends.
And here's a message from the team:
"To all the Kickstarter backers who signed on to this project, thank you so much for your support and patience while waiting for this localization.
It's thanks to all of YOU that this project was made possible! It's been a long journey, and we are pleased to finally be able to bring you the official English release of Muv-Luv Alternative! The team has worked really hard for over a year to ensure that we give you the most fantastic experience for this amazing story that we possibly can, and we really hope you enjoy it!
We hope that you all have fun with this backer-exclusive BETA release! Please give us your feedback, and if you find any issues or bugs, do let us know at our community forums."
Cheers,
The Muv-Luv Tea
About This Game
This is it. The chips are down, the die's been cast, and the fate of the multiverse is on the line. Step back into the cockpit and prepare for deployment in Muv-Luv Alternative, the most critically acclaimed visual novel of all time. Just be sure to keep a box of tissues handy, because it's about to be a bumpy ride.

This isn't a cutesy high school rom-com anymore; it's an epic tale of political conspiracies, international espionage, an alien menace, quantum causality, bittersweet reunions, genetic modification, and much, much more. Gluttons for punishment, rejoice, because once it gets rolling, there are no brakes on this pain train. It'll test your limits, challenge your worldview, and by the time it's all over, you'll be so emotionally spent that it'll be weeks before you can fully process the implications of what you've just witnessed. Fair warning, though: common side effects include feelings of emptiness, PTSD, and unrealistic expectations for any and all other visual novels.

This definitive release comes complete with a brand new translation, all-new CGs, additional voice acting, and dual language/ tablet support, so if you think you're ready to take the dive, there's never been a better time to strap in and see for yourself why so many readers consider this the greatest story ever told.
------
Scott Green is editor and reporter for anime and manga at geek entertainment site Ain't It Cool News. Follow him on Twitter at @aicnanime.