Kenshiro Morii (Wake Up, Girl ZOO!) serves as director for Wao World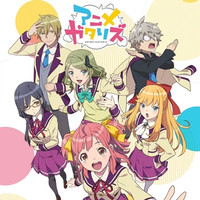 The official website for the upcoming TV anime Anime-Gataris today confirmed that it will premiere on Tokyo MX at 22:00 on October 8 then on BS Fuji at 24: 00 three days later. One week before the premiere, a special program to introduce the CCG EXPO in China amd the Machi Asobi event in Tokushima is scheduled to be aired in the same time slot.
It is also announced that two-member unit GARNiDELiA provides their upcoming 8th single song "Aikotoba" (literally means password or loving word) as the anime's OP theme song. The CD singe will be released from SACRA MUSIC on November 1.
Also, the ED theme song "Good Luck Lilac" is performed by the anime's three main voice actresses: Kaede Hondo (Minoa Asagaya), Sayaka Senbongi (Alice Kamiigusa), and Hisako Tojo (Miko Koenji) as the unit "GATALIS." The ED song is written by Natsumi Tadano (Aikatsu!, Scorching Ping Pong Girls)
and composed/arranged by MONACA's Hidekazu Tanaka (Haiyore! Nyaruko-san, The [email protected]
Cinderella Girls). Its CD release date has not been decided yet.
The advance screening event of its first two episodes is set to be held at Japan Science Hall in Tokyo
twice (13:30, 17:00) on September 3. 4,000-yen tickets are now available on ePlus.
Teaser PV
Message from Kaede Hondo
本日の最新情報④
みなさんのご要望にお応えして…本渡楓さんのビデオメッセージを公式サイトで大公開!!https://t.co/DzKMjYnNvY
チェックチェックだよ♪
宣伝担当あみ#ガタリズ pic.twitter.com/lLTmrkW9XA

— 「アニメガタリズ」公式 (@animegataris) 2017年8月18日
Key visual
Source: DMM.com press release
(C) DMM.futureworks/JY Animation, Sakaneko Academy Anime Research Club "Animegatari"
(C) Animegatari