Advance screening event will be held at Roppongi Hills on September 30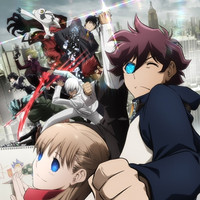 The official Japanese website for Blood Blockade Battlefront & Beyond, the upcoming second season of the TV anime adaptation of Yasuhiro Nightow's supernatural action manga, today made some new announcements, including its premiere schedule, artists for its OP/ED songs and soundtrack music.
The Bones-animated new season is set to premiere on MBS at 27:08 on October 7 (JST), then on Tokyo MX and BS11 at 24:30 one day later.
TVアニメ『血界戦線 & BEYOND』MBS 10月7日より毎週土曜日27:08~/TOKYO MX、BS11 10月8日より毎週日曜日24:30~放送開始!!https://t.co/ZPx5CkHgQd #kekkai_anime pic.twitter.com/G1T5WmfAa8

— TVアニメ『血界戦線』 (@kekkaisensen) 2017年9月3日
The OP song "fake town baby" is performed by three-member Japanese rock band UNISON SQUARE
GARDEN, who provided the first season's ED song "Sugar Song to Bitter Step." The song was produced
with the image of "a music hoped to be sounded in Hellsalem's Lot." It will be released as the band's
12th single on November 15.
『血界戦線 & BEYOND』OPアーティストはUNISON SQUARE GARDEN!OPテーマは「fake town baby」に決定!「ヘルサレムズ・ロットで鳴っていて欲しい音楽」をイメージして制作された、クールなナンバー!→https://t.co/rEeXPKySxP pic.twitter.com/8mDoq9PSFI

— TVアニメ『血界戦線』 (@kekkaisensen) 2017年9月3日
The ED song "Step-Up Love" is composed/arranged/produced by 52-year-old singer-songwriter Yasuyuki
Okamura, and performed by DAOKO, who recently sang the theme song for the anime film adaptation
of internationally acclaimed Japanese director Shunji Iwai's 1993 TV drama Uchiage Hanabi, Uekara Miruka
Shitakara Miruka?/Fireworks, Should We See It from the Side or the Bottom?. The two co-wrote the lyrics.
It will be released as DAOKO's 4th single on October 18.
『血界戦線 & BEYOND』EDアーティストはDAOKO × 岡村靖幸!EDテーマは「ステップアップLOVE」に決定!!→https://t.co/9NGLyScK2b pic.twitter.com/PIZsurUJP3

— TVアニメ『血界戦線』 (@kekkaisensen) 2017年9月3日
As with the first season, the soundtrack music for the second season is composed by Taisei Iwasaki.
The artists who join the new music are announced as below:
Ashwin Shenoy
Banda Magda
Bilal
BIGYUKI
Bose (Scha Dara Parr)
Hybrid Thoughts
OH! MY GIRL
OUM
Pauline
Saucy Lady
Takuya Kuroda
Yuki Kanesaka
…and more,
The advance screening event for the second season's first episode "Lights, Camera, Action!" is scheduled
to be held at Toho Cinemas Roppongi Hills in Tokyo twice (15:50, 17:30) on September 30. The seven main
voice actors will also join for a talk show. 2,500-yen tickets will go on sale on September 22.
9月30日(土)開催【放送直前!TV アニメ『血界戦線 & BEYOND』先行上映会】の詳細&チケット情報を公開しました!第一話「ライツ、カメラ、アクション!」がいち早くご覧いただけます!詳しくはこちら→https://t.co/BdbNyZDmGs #kekkai_anime pic.twitter.com/Uy53ZxBhwr

— TVアニメ『血界戦線』 (@kekkaisensen) 2017年9月3日
---
Latest PV
Source: "Blood Blockade Battlefront & Beyond" official website, Twitter
©2017 Yasuhiro Nightow/Shueisha, Blood Blockade Battlefront & Beyond Production Committee