Set to begin streaming on Crunchyroll this fall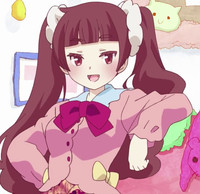 Fight to defend what you love! The first look at footage from the upcoming URAHARA anime, set to stream this fall on Crunchyroll, is finally here! Get a good look as the shop girls - Rito, Mari, and Kotoko, take on the alien Scoopers in battle high above the streets of Harajuku!
Featuring animation production by Shirogumi (Etotama) x EMT Squared (Love Tyrant), the URAHARA anime is based on the webcomic PARK Harajuku: Crisis Team! that has been running on Crunchyroll since May 2015.
URAHARA is a production collaboration between Crunchyroll and Chinese video sharing website Bilibili, and is set to be streamed worldwide, including Japan, the US, and China, in October 2017.
Additional details on Japanese distribution plans for URAHARA were also released today, and the series is confirmed to debut on October 4th on AmebaTV, with additional airings on TOKYO MX (on 10/5) and BS Fuji (10/9). Look for details on Crunchyroll's plans for streaming URAHARA soon!
The story created by Patrick Macias (Crunchyroll) and Mugi Tanaka is set in PARK, a real shop themed after fashion × otaku × creation, located in Harajuku. The town has been threatened by the invasion of the alien named "Scoopers."
SYNOPSIS
Harajuku...The place where culture, kawaii, and fashion come together. Three high school girls Rito, Mari, and Kotoko are planning to open a temporary store called Park. One day, aliens from space come to Earth to take away the culture of humans. That's when a mysterious girl who calls herself Misa appears. Now, in order to protect the Harajuku that they love, these three girls must be prepared for anything!
Main voice cast:
Rito Sudo: Luna Haruna (Sword Art Online, Saekano, Monogatari series theme song singer). She will also provide the ending theme "KIRAMEKI Lifeline". URAHARA is her debut as a voice actor.
Mari Shirako: Sumire Uesaka (Aletta in Restaurant to Another World). She will also be singing the opening theme of URAHARA, "Antithesis Escape".
Kotoko Watatsumugi: Manaka Iwami (Chiaki Hoshinomori in Gamers!)
Here's the CD sleeve art for the URAHARA edition of Sumire Uesaka's opening theme
---
Main Staff:
Director: Amika Kubo (95th NHK asadora Beppinsan OP animation)
Chief Director: Masatsugu Arakawa (Nurse Witch Komugi, Oshiri Kajiri Mushi)
Series Composition: Natsuko Takahashi (Love Tyrant, Kenka Bancho Otome: Girl Beats Boys)
Original Story: Patrick Macias (Crunchyroll)
Original Character Designer: Mugi Tanaka (PARK)
Anime Character Designer: Mariko Fujita (Galaxy Angel, Futari wa Milky Holmes)
Mecha Designer: Takahiro Yamada (Battle Spirits, Tomica Hyper Rescue Drive Head)
Title Logo Design: NC Empire
Anime Production: Shirogumi (Etotama) x EMT Squared (Love Tyrant)
Official Links