7,538-yen item will be available on November 17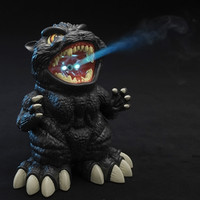 Following the well-received "Godzilla Bank" released in November 2015, Tokyo-based company SHINE plans to offer a new humidifier named "Kasitsuou (The King of Humidification) Godzilla" inspired by Toho's nationally famous kaiju character Godzilla, often called "Kaijuou (The King of Monsters)."
Instead of the character's signature weapon "atomic breath (nuclear blast)," the 21cm-tall humidifier blows blue mist illuminated by LED Lights. As with the Godzilla Bank, the action is accompanied by Godzilla's famous roar, echoing footsteps, and the famous theme music. Japanese illustrator Shinji Nishikawa, well-known for his design works for Toho's Godzilla films since Godzilla vs. Biollante in 1989, again provides a newly-drawn package art. The 7,538-yen (about 69 US dollars) item will be available on the Godzilla franchise's official EC site Godzilla Store on November 17.
こんにちは。ゴジラ・ストアです。怪獣王改め、加湿王ゴジラ現る。青い熱線を放射して部屋を加湿!ゴジラのカッコいい加湿器のご予約受付を開始しました。お届けは2017年11月17日の予定です。
ご予約はこちら https://t.co/zx0nHIqNPH pic.twitter.com/ng7yesAeiI

— ゴジラ公式通販サイト ゴジラ・ストア (@godzilla_st) 2017年9月11日
---
"Godzilla Bank"
PV
English flyer image
Source: SHINE press release
TM & (C)TOHO CO., LTD.