133-minute Blu-ray will be released on January 10, 2018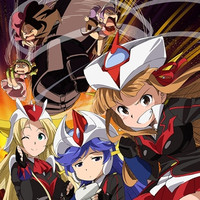 Toei Video today confirmed that a three-member new team "M" will appear in the newly-produced episode to be included in the upcoming "fullcomp" Blu-ray disc of Toei Animation's Robot Girls Z anime series.
The new episode "Fukkatsu no Chika Teikoku!? Robot Girls Z vs. Nazo no Sandai Shuyaku Robo!" (The Resurrection of The Underground Empire!? Robot Girls Z vs. The Three Mysterious Leading Role Robots!) is animated by Directions (Time of Eve), written by Kazuho Hyodo, who worked as the series composition writer for the anime series, and directed by Poeyama (March Comes like a Lion original FLASH short anime "Ugoku! Nya Shogi").
The three new girls are (from left):
Govari-san (Psycho Armor Govarian), Gro-chan (Groizer X), X-san (X Bomber).
「ロボットガールズZ フルコンプBlu-ray」収録の新作ぷちキャラアニメーション、一部情報解禁!チームZ、地下帝国のお馴染みキャラクターに加え、新たにチームM「サイコアーマーゴーバリアン」「グロイザーX」「Xボンバー」が参戦決定!https://t.co/qRVPiADGUT pic.twitter.com/GamAzMizZl

— ロボットガールズZ@フルコンプBD発売 (@robot_girls_z) 2017年9月13日
The 133-minute disc contains all episodes of Robot Girls Z (9 episode) and its sequel Robot Girls Z+
(6 episodes) aired/streamed in Japan from 2014 to 2015, as well as the "episode 0" PV, the 3.5th,
6.5th, 9.5th bonus episodes. The package illustration for the Blu-ray is also revealed.
フルコンプBlu-rayパッケージ用の描き下ろしも完成です!https://t.co/jTWmNYXYKv pic.twitter.com/DOJSXZ68lD

— ロボットガールズZ@フルコンプBD発売 (@robot_girls_z) 2017年9月13日
Source: Toei Video
©Dynamic Planning/Toei Animation
©Leiji Matsumoto/Toei Animation
©Robot Girls Laboratory