All-new sequel film is set to be screened in France and Italy before Japan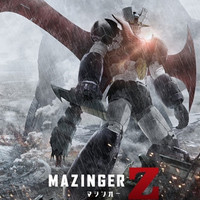 The official website and Twitter for the upcoming new anime film Mazinger Z/Infinity today debuted a new poster visual online, introducing the full body of the legendary super robot standing in rubble, with a tagline "When the world disappears, the Majin appears."
【NEWS!!】"神"か"悪魔"か… 復活のマジンガーZ その全形が遂に明らかに!新ポスタービジュアルが遂に解禁!!#マジンガーZ #劇場版マジンガーZ
詳しくはこちら▼
https://t.co/ugNBVqZKws pic.twitter.com/XIBiTFWTLp

— 劇場版マジンガーZ 1.13公開 (@mazingerzjp) 2017年9月13日
It is also revealed today that, in addition to the previously announced France, the all-new sequel
film is scheduled to be also screened in Italy, prior to the theatrical run in Japan from January 13, 2018.
The original creator Go Nagai is invited to the upcoming International Rome Film Festival to kick off on
October 26.
The preview screening was held in Tokyo yesterday, September 13. The theme song singer Ichiro Mizuki,
the original soundtrack composer Chumei Watanabe, and his son Toshiyuki who worked on the new film's
music, joined together. Mizuki has posted photos of the three on his Twitter.
「劇場版マジンガーZ / INFINITY」の試写会に行って来ました。大画面から流れる主題歌には当然感動。渡辺宙明さんのお馴染みのメロディにご子息の渡辺俊幸さんの素晴らしいアレンジが見事にマッチ。世界中のファンの人たちの歓喜の声が聞こえて来そうだZ! #mazingerz pic.twitter.com/NoNbCn5Mqu

— Ichiro Mizuki (@aniki_z) 2017年9月13日
---
The new film takes place ten years after the final episode of the original TV series. The protagonist Koji
Kabuto now starts following his grandfather and father's footsteps as a scientist. But he finds a huge
structure and a mysterious vital reaction that are buried deep under Mount Fuji. A new encounter, a new
threat, and a new destiny are waiting for the human race. What is the erstwhile hero Koji Kabuto's
decision for the future?
Trailer 1
Main Voice Cast:
Koji Kabuto: Showtaro Morikubo (Shikamaru Nara in Naruto)
Sayaka Yumi: Ai Kayano (Meiko "Menma" Honma in Anohana: The Flower We Saw That Day)
Lisa: Sumire Uesaka (Anastasia in THE [email protected] Cinderella Girls)
Shiro Kabuto: Natsuki Hanae (Ken Kaneki in Tokyo Ghoul)
Boss: Watatu Takagi (Garrod Ran in After War Gundam X)
Mucha: Kappei Yamaguchi (Ranma Saotome in Ranma 1/2)
Nuke: Masami Kikuchi (Ino Abbav in Mobile Suit Gundam ZZ)
Prime Minister Yumi: Junpei Morita (Buer in Pandora in the Crimson Shell: Ghost Urn)
Dr. Nossori: Bin Shimada (Paptimus Scirocco in Mobile Suit Zeta Gundam)
Dr. Sewashi: Kozo Shioya (Majin Boo in Dragon Ball Super)
Dr. Hell: Unsho Ishizuka (Jet Black in Cowboy Bebop)
---
Source: "Mazinger Z" anime film official website, Twitter
© Go Nagai/Dynamic Planning MZ Film Partners