The Fumihiko Sori-directed adaptation is also chosen as the opening film for the 30th event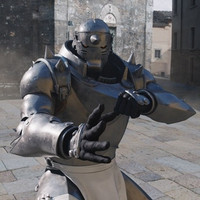 The 30th Tokyo International Film Festival (TIFF) announced today that the live-action film adaptation of Hiromu Arakawa's Hagane no Renkinjutsushi/Fullmetal Alchemist manga, directed by Fumihiko Sori (Ping Pong, Vexille), will be screened as its opening film on October 25. It is the first time for a Japanese film in 10 years since Midnight Eagle directed by Izuru Narushima (Solomon's Perjury) in 2007, and the first time for a live-action film adaptation based on a Japanese manga since the festival began in 1985.
The screening will be also the film's world premiere. The organizers describe the film as "a fantasy/action spectacular that brings to live action the epic world of the hit comic series that has sold over 70 million copies around the world. Two brothers embark on a journey to regain all they have lost!"
Ticket for the screening will be sold by pre-order lottery on the festival's official website, which will be
accepted between September 27 and October 3.
During the event period, director Sori is scheduled to join a special talk show "Master Class," which was
previously hosted by Takeshi Kitano and John Woo. Sori says, "It is a great honor for us that Fullmetal
Alchemist is chosen as the opening film for the Tokyo International Film Festival. As one of the latest
Japanese films , I sincerely hope that it will widely appeal Japan's content power and Japanese films'
quality and technology not only to the people in Japan, but also to foreign people."
The 23-year-old Ryosuke Yamada (a member of Japanese idol group Hey! Say! JUMP)-starring film hits
Japanese theaters December 1, 2017.
\ハガレン世界へ/
映画『#鋼の錬金術師』が、10月25日(土)より開催される「第30回 #東京国際映画祭」オープニング上映作品として、世界で初めて公式上映されることが決定 邦画は10年ぶり 日本のコミック原作は史上初 #ハガレン pic.twitter.com/m6DIeeN2N0

— 映画『鋼の錬金術師』公式 (@hagarenmovie) 2017年9月15日
【曽利文彦監督コメント】「#東京国際映画祭 のオープニング作品に選んでいただけて本当に光栄です。日本映画の最新作の1作品として、日本のコンテンツパワーや日本映画のクオリティや技術を国内はもちろん、海外の方々にも広くアピールできることを心から願っています」#鋼の錬金術師 #ハガレン pic.twitter.com/4la0monpw7

— 映画『鋼の錬金術師』公式 (@hagarenmovie) 2017年9月15日
3rd trailer Japanese version
English version
Source: "Fullmetal Achemist" live-action film official website, Twitter
(C)2017 Hiromu Arakawa/SQUARE ENIX (C)2017 Movie "Fullmetal Alchemist" Production Committee