Both titles launch today!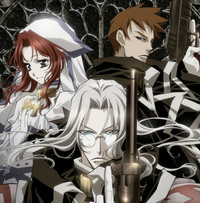 Post-apocalyptic vampires and epic RPG action are yours to enjoy today with the addition of two new titles from the Funimation-Crunchyroll partnership. Welcome Trinity Blood and Sands of Destruction as they enter the hallowed halls of the CR library.
Sands of Destruction
Territories: United States, Canada, United Kingdom, Ireland, Australia, New Zealand
Launch time: 3pm

Synopsis:

SEGA® and FUNimation® bring you an anime based on the RPG of the same name. Morte's brother died in the war between men and beasts, and she wants the world pay for her loss. That's where Kyrie comes in. He may hold the key to unlocking an orb capable of eradicating everything in existence. The planet's fate hangs in the balance, but these heroes would rather destroy the world than save it.
--
Territories: United States, Canada
Launch time: 4pm
Synopsis:

Centuries ago, Armageddon cast darkness across the world. From that darkness, the vampires emerged. Now humans and vampires tremble on the brink of war, and Abel Nightroad, a Vatican priest and agent of AX, protects the fragile equilibrium between the two races. Neither human nor vampire, he is strong in his endeavors for the sake of the world, seeking a safe path for all.


---
Patrick Macias is editor in chief of Crunchyroll News & Otaku USA magazine. He is currently serializing his latest writing project, PARANOIA GIRLS, on Wattpad.