General tickets for the Takarazuka Grand Theater shows will go on sale on December 2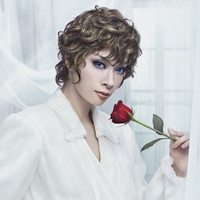 All-female musicla theater troupe Takarazuka Revue has revealed a visual of Edgar Portsnell, the protagonist of its upcoming stage play adaptation of Moto Hagio's classic shoujo manga series in the 1970s, Poe no Ichizoku (The Poe Clan), portrayed by a top otokoyaku (male role) star of Hana-gumi (Flower Troup), Rio Asumi.
花組 宝塚大劇場・東京宝塚劇場公演 『ポーの一族』 先行画像UP!https://t.co/5XL7r6aqc7 pic.twitter.com/nvM6rkbjUX

— タカラヅカ歌劇ポータル (@zukazuka_info) 2017年9月14日
The manga has told the story of a family of vampires live through from the 18th to the 20th centuries
and the protagonist Edgar who is destined to live forever in form of a boy. It was originally serialized
in Shogakukan's Bessatsu Shoujo Comic from 1972 to 1976, and a new tankobon "Haru no Yume"
(Spring's Dream) including its new chapters in 40 years was released in July of this year.
The manga's first stage play adaptation is written/directed by Shuichiro Koike, who previosuly worked
on Takarazuka's Legend of the Galactic Heroes and Rurouni Kenshin musiclas. Hanagumi's musume
yaku (female role) star Ayase Senna is also cast as Sheila Portsnell, alongside Hanagumi's third otokoyaku
star Rei Yuzuka as Alan Twilight.
The Poe no Ichizoku stage play will be performed first at Takarazuka Grand Theater in Hyogo Prefecture
from January 1 to February 5, then at Tokyo Takarazuka Theater from February 16 to March 25. Advance
tickets for the shows at the Grand Theater will go on sale December 2, then that of the Tokyo Theater
will be available from January 14.
Reissue edition box cover/1st volume
Source: Takarazuka Revue official website, Twitter
(C) Takarazuja Revue
(C) Moto Hagio/Shogakukan