The band's 12th single song "Invisible Sensation" will be featured from the 12th episode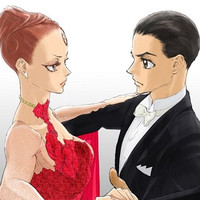 The official Japanese website for the ongoing TV anime adaptation of Tomo Takeuchi's competitive dancing-themed manga Welcome to the Ballroom is today updated with a 5th key visual featuring the protagonist Tatara Fujita (CV: Shimba Tsuchiya) and a new character Chinatsu Hiyama (Chinatsu Akasaki).
【第5弾キービジュアル公開!】TVアニメ「ボールルームへようこそ」の第5弾キービジュアルが公開となりました!またこちらのキービジュアルに合わせて公式HPのデザインもリニューアル!是非ご覧ください! #ballroom_animehttps://t.co/gtD1tQAOCf pic.twitter.com/yQbVtR64x1

— TVアニメ「ボールルームへようこそ」 (@ballroom_anime) 2017年9月18日
The site also posted a 90-second 6th PV introducing its new OP song "Invisible Sensation" performed by
three-member rock band UNISON SQUARE GARDEN, whose 11th single song "10% roll, 10% romance"
was used from the anime's first to 11th episodes. Their 12th single song "Invisible Sensation" will be
used from the next 12th episode to be aired in Japan this Saturday, September 23, and its CD single
will be available at stores on November 8.
In addition, the PV introduces other new characters who will join in the second cour: Akira Koumoto (Aoi
Yuuki), Masami Kugimiya (Takahiro Sakurai), and Chizuru Hongo (Minako Kotobuki).
【第6弾PV公開!】さらにTVアニメ「ボールルームへようこそ」の第6弾PVも公開!今回のPVには、新OP主題歌UNISON SQUARE GARDEN「Invisible Sensation」も使用されています!是非、ご注目下さい!https://t.co/8u2M4Tc1cX

— TVアニメ「ボールルームへようこそ」 (@ballroom_anime) 2017年9月18日
Source: TV anime "Welcome to the Ballroom" official website, Twitter
©Tomo Takeuchi, Kodansha/Ogasawara Dance Studio