Shin-Ei Animation-animated series is now available on Crunchyroll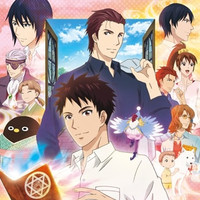 The official Japanese website for the ongoing TV anime adaptation of Hinowa Kouzuki's Youkai Apart no Yuuga na Nichijo/Elegant Yokai Apartment Life light novel series is today updated with a new key visual for its upcoming second cour to start in October, introducing one of the cour's new characters, Naomi Chiaki voiced by 55-year-old Toshihiko Seki (Duo Maxwell in Mobile Suit Gundam Wing, Rau Le Creuset in Mobile Suit Gundam SEED). The next cour will also add Haruka Aoki voiced by Fumiko Orikasa (Rukia Kuchiki in Bleach) and Konatsu Yamamoto by Rie Kugimiya (Kagura in Gintama).
The TV anime produced by Shin-Ei Animation (Doraemon, Crayon Shin-cahn) premiered in Japan in July and has been also available to Crunchyroll members worldwide except Asia.
10月からの第2クールに向けて新キービジュアルを公開!これまでのキャストに加え、千晶直巳役に関俊彦、青木春香役・折笠富美子を迎えてお届けします!より深みを増すストーリーと広がる「妖アパ」ワールドをよろしくお願いします! #妖アパ https://t.co/JFw1mFLhye pic.twitter.com/OI3UxNSoMA

— 妖怪アパートの幽雅な日常 公式アカウント (@YouapaAnime) 2017年9月19日
---
Meanwhile, the second cour's ED theme song "Neiro" (tone color) is confirmed to be performed by Lozareena,
who provided her first digital single song "Good Night Mare" as the first cour's OP song. "Neiro" will be released
as her first physical CD single on October 3, and the single will also include "Good Night Mare."
【リリース決定】

ロザリーナ 1stシングル『音色』

■発売日
2017年10月3日(水)

■価格
1,000円+税

■収録予定曲
M1.音色
M2.Good Night Mare
M3.ドレスコードhttps://t.co/KA7LO0hcan pic.twitter.com/pDfDiHKTqN

— ロザリーナ スタッフ (@lozareena_staff) 2017年9月3日
First cour OP song "Good Night Mare" MV
Source: TV anime "Elegant Yokai Apartment Life" official website, Lozareena official website
©Hinowa Kozuki, Waka Miyama, KODANSHA/"Elegant Yokai Apartment Life" Production Committee All Rights Reserved. ©Lozareena All Rights Reserved.