Seiji Mizushima offers comments at weekend event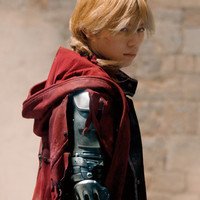 Forget about Oktoberfest. Last weekend in Tokyo, it was Nikufes (Meat Festival) 2017. Part of the event's anime programming was a Fullmetal Alchemist panel with 2003 anime director Seiji Mizushima and producers Hiroshi Kanemaru and Tomoki Misawawasa. Mizushima commented that he was rooting for the live-action FMA movie, with a particular interest in the 3DCGI, but he also noted he had trepidation about the project.
"It was a bad idea to only use Japanese actors... If you asked me whether I think the cast could pull it off, I'd say that no, they can't."
"It's hard for actors to capture the look and feel of the original manga".
Mizushima added "Gintama just looked stupid."
Kanemaru and Misawa also included Terraformars as another bad adaptation film to add to the list.
All on the panel agreed that 2D animation allows for more freedom and expression than live action.
Earlier this year, for an interview in the the March issue of CUT, Yamada commented:
First of all, Edward Elric isn't Japanese, right? Playing [the role] while figuring out how to digest that within myself was something I really struggled with. I thought of how I could show that without making it feel out of place. I think that was a difficult problem that the rest of the cast probably struggled with too. Each one of us prepared for these roles with all our might, facing them earnestly, and I think we completely cleared [the hurdles]. I think that fans of the manga are still in a state of 'how, how?' so in regards to that, I think that's what I want them to feel reassured about.
via animenewsnetwork and aramjapan
------
Scott Green is editor and reporter for anime and manga at geek entertainment site Ain't It Cool News. Follow him on Twitter at @aicnanime.