Koichiro Miki (Evergreen Love)-directed film hits Japanese theaters November 25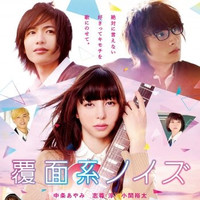 The official website for the upcoming live-action film adaptation of Ryoko Fukuyama's Fukumenkei Noise/Anonymous Noise romance manga today posted a new poster visual and a 60-second new trailer revealing 20-year-old fashion model/actress Ayami Nakajo's stage performance as the protagonist Nino Arisugawa for the first time.
The song performed by her and her band in the clip, "Close to me" is provided by five-member masked rock band MAN WITH A MISSION, who also perform the film's ED theme song "Find You." Nino's band in the film, in NO hurry to shout; is confirmed to make a major debut from Sony Music Records and their 1st single "Close to me" is set to be released on November 15.
47-year-old Koichiro Miki, who recently worked on the live-action film adaptation of Hiro Arikawa (Library Wars)'s Shokubutsu Zukan/Evergreen Love novel, is attached to direct. The film is scheduled
to open in Japan on November 25, 2017.
60-second trailer
30-second trailer
New poster visual
 さらに…! 

『#覆面系ノイズ』のポスタービジュアルも解禁
今週末から順次映画館で掲出されます。ぜひチェックしてみてくださいね#中条あやみ #志尊淳 #小関裕太 #真野恵里菜 #磯村勇斗 #杉野遥亮 pic.twitter.com/TZ4VvVa6Nf

— 映画『覆面系ノイズ』 (@fukumenkeimovie) 2017年9月19日
in NO hurry to shout;
MAN WITH A MISSION
---
Ayami Nakajo/Nino Arisugawa
Jun Shison/Kanade Yuzuriha
Yuta Koseki/Momo Sakaki
Erina Mano/Miou Suguri
Yuto Isomura/Ayumi Kurose
Yosuke Sugino/Yoshito Haruno
Source: "Fukumenkei Noise" live-action film official website, Twitter
© 2017 Movie "Fukumenkei Noise" production Committee
© 2017 MAN WITH A MISSION
© Ryoko Fukuyama/Hakusensha