Second chapter "Hi-Evolution 2" is set to be released in fall of 2018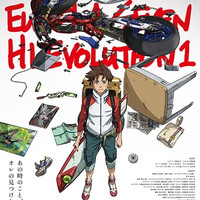 Eureka Seven Hi-Evolution 1, the first part of the trilogy films based on the 50-episode first Eureka Seven TV anime series aired in 2005-2006, was released in 107 theaters across Japan last Saturday, September 16, and ranked 8th with 63 million yen (about 565,000 US dollars) in its debut weekend. The second part is scheduled to be released in fall of 2018, then the third part will follow in 2019.
Meanwhile, Haikyu!! Sainou to Sense (Talent and Sense), a compilation film based on the Haikyu!! TV anime second season aired from October 2015 to March 2016, was also released in 20 theaters in the same weekend. While didn't make it to the box office top 10 (it was inevitable considering the number of theaters), it ranked No.1 in Pia's first day satisfaction ranking with 92.6 rating. Eureka Seven Hi-Evolution 1 ranked 6th with 83.1 rating.
Haikyu!! Concept no Tatakai (The Battle of Concept), a next compilation film based on the third TV
anime Karasuno High School vs Shiratorizawa Academy aired in October-December 2016, will follow
from September 29, after Sainou to Sense ends its two-week run.
---
Weekend box office in Japan (September 16-17, 2017)
- ticket sales basis
1 (new). "Alien: Covenant"
2 (new). "Dunkirk"
3 (2). "The Third Murder"
4 (3). "Sekigahara"
5 (4). "Despicable Me 3"
6 (new). "Okuda Tamio ni Naritai Boy, Deau Otoko Subete Kuruwaseru Girl"
7 (7). "I Want to Eat Your Pancreas"
8 (new). "Eureka Seven Hi-Evolution 1"
9 (5). "Wonder Woman"
10 (8). "Fireworks, Should We See It from the Side or the Bottom?"
---
"Eureka Seven Hi-Evolution 1" trailer
"Haikyu!! Sainou to Sense/Concept no Tatakai" trailer
Source: Eiga.com
©2017 BONES/Project EUREKA MOVIE
©2017 Haruichi Furudate/Shueisha, "Haikyu!!" Production Committee, MBS