En octobre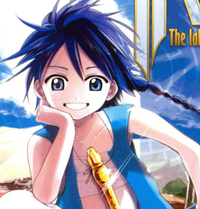 C'est sur le site Internet de Shônen Sunday que la mangaka Shinobu Ohtaka a annoncé que sa série Magi - The Labyrinth of Magic prendrait fin bientôt : il ne reste plus que quatre chapitres de prévus ! Si la parution garde son rythme hebdomadaire jusque-là, le tout dernier chapitre devrait donc être publié le 18 octobre prochain dans le magazine Weekly Shônen Sunday.
Le manga a commencé en 2009 et est édité en France par Kurokawa, qui a sorti le 26e tome le 24 août dernier.
Synopsis (éditeur) : Une aventure épique au cœur des 1001 nuits ! Aladin est un jeune garçon étrange qui ne se sépare jamais de sa flûte. En effet, elle abrite Hugo, un géant à la force surpuissante. Aladin va faire la connaissance d'Ali Baba qui voit en cette flûte magique un chemin rapide vers la fortune et la gloire. Les deux compagnons partent explorer de mystérieux labyrinthes qui attirent les aventuriers de tout le pays.
Source : ANN