AWA 2017 is held in Atlanta, GA from Sept. 28th to Oct. 1st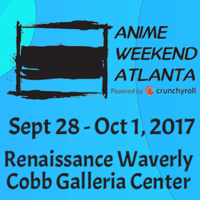 Crunchyroll is proud to present the North American premieres of Black Clover, Dies irae, Recovery of an MMO Junkie, and URAHARA at Anime Weekend Atlanta 2017!
Yes, you read that correctly! Crunchyroll is premiering FOUR of the most anticipated Fall simulcasts at Anime Weekend Atlanta next weekend. So if you haven't purchased a badge yet, head on over to AWA's website to grab yours today!
Episode 1 and 2 of Recovery of an MMO Junkie, along with the first episode of Black Clover and Dies irae, will be shown at Crunchyroll's Fall Simulcast Premiere Panel. This panel will be held on Friday, Sept 29th, from 7:30PM to 9:00PM in the Grand panel room.
The first episode of URAHARA will be shown separately at its very own panel, the URAHARA Premiere Panel, with Luna Haruna (voice of Rito Sudo) in attendance! The URAHARA Premiere Panel will be held on Saturday, Sept 30th, from 12:00PM to 1:00PM in the Grand panel room.
Black Clover
Synopsis: In a world where magic is everything, Asta and Yuno are both found abandoned at a church on the same day. While Yuno is gifted with exceptional magical powers, Asta is the only one in this world without any. At the age of fifteen, both receive grimoires, magic books that amplify their holder's magic. Asta's is a rare Grimoire of Anti-Magic that negates and repels his opponent's spells. Being opposite but good rivals, Yuno and Asta are ready for the hardest of challenges to achieve their common dream: to be the Wizard King. Giving up is never an option!
______________________
Dies irae
Synopsis: Ren Fujii is a normal student who just had a fistfight with his former best friend, leading him to break off their friendship. But with the help of his childhood friend, Kasumi Ayase, and upperclassman, Rea Himuro, he's gradually returning to his normal school life.
Then a series of brutal murders in which the victims are decapitated begins to strike their city. Strangely, at the same time, Ren starts to have terrifying nightmares of being beheaded by a guillotine. But these are just a prelude to the painful and terrifying battles to come.
Their daily life has turned inside-out. Supermen are lurking in the darkness. The town has become a battlefield as Ren is consumed by insane happenings beyond his imagination. Faced with the reality that he cannot survive unless he fights, will he be able to retake his normal life?
______________________
Recovery of an MMO Junkie
Synopsis: Morioka Moriko (♀) is 30, single, and a NEET. She has dropped out of the real world. Searching for a safe place, the place she ended up... is the online world!!
"This world is crap."
Morioka Moriko has become a complete NEET and in search for a more fulfilling life, she ends up travelling to the online world. The place she ended up was an online game.
In the world of this online game, Moriko starts a new life as a refreshing, handsome, young man with silky hair named Hayashi. However, she's an obvious noob and ends up dying numerous times when a lovely girl named "Lily" lends her a helping hand.
"She's an angel!"
After meeting Lily, she gains a trusted ally and her online gaming life becomes rather fulfilling. Meanwhile IRL, she ends up having a shocking encounter with a mysterious blonde-haired, blue-eyed, handsome, elite salaryman named Sakurai Yuuta.
After meeting him, the real world starts to change and starts effecting her online world as well?!
What will become of Moriko's fulfilling online life?!
In search for true fulfillment...
You should log into this world where online and reality intersect!
______________________
URAHARA
Synopsis: Harajuku...The place where culture, kawaii, and fashion come together. Three high school girls Rito, Mari, and Kotoko are planning to open a temporary store called Park. One day, aliens from space come to Earth to take away the culture of humans. That's when a mysterious girl who calls herself Misa appears. Now, in order to protect the Harajuku that they love, these three girls must be prepared for anything!