Visual novel adaptation coming this fall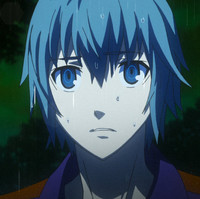 In 2015, award-winning visual novel series Dies irae blew the lid off of a crowdfunding campaign from creators Light that aimed to raise 30 million yen ($250,000) for a pilot, but ended up ultimately raising 300% of its goal. This fall, that anime becomes a reality and Crunchyroll is ready with an English-subtitled preview of the production.
Check out the official trailer of Dies irae! Ren Fujii is a normal student who just had a fistfight with his former best friend, leading him to break off their friendship. But with the help of his childhood friend, Kasumi Ayase, and upperclassman, Rea Himuro, he's gradually returning to his normal school life.

Then a series of brutal murders in which the victims are decapitated begins to strike their city. Strangely, at the same time, Ren starts to have terrifying nightmares of being beheaded by a guillotine. But these are just a prelude to the painful and terrifying battles to come.

Their daily life has turned inside-out. Supermen are lurking in the darkness. The town has become a battlefield as Ren is consumed by insane happenings beyond his imagination. Faced with the reality that he cannot survive unless he fights, will he be able to retake his normal life?
Main Staff:
Director: Susumu Kudou (Mardock Scramble, Minami Kamakura High School Girls Cycling Club)
Series Composition/Scenarios: Takashi Masada (original game series' scenario writer)
Anime Character Designer: Takaaki Fukuyo (Momokuri assistant animation director)
Music: Keishi Yonao (YU-NO:A girl who chants love at the bound of this world.)
Produce: Genco
Anime Production: ACGT (Minami Kamakura High School Girls Cycling Club)
Production: Dies irae ANIME PROJECT
---
The OP song "Kadenz" is performed by 36-year-old voice actress Yui Sakakibara, who has voiced the
main heroine Marie in the original game series and is set to reprise the character in the upcoming TV
anime as well.
Ren Fujii (CV: Kousuke Toriumi)
Marie (Yui Sakakibara)
Kasumi Ayase (Ayaka Fukuhara)
Rea Himuro (Hitomi Nabatame)
Shirou Yusa (Takeshi Maeda)
Reinhard Heydrich (Junichi Suwabe)
Valeria Torifa (Ken Narita)
Wilhelm Ehrenburg (Kisho Taniyama)
Hotaru Sakurai (Kei Mizusawa)
Beatrice Waltrud von Kircheisen (Kei Mizusawa)
Rusałka Schwägerin (Yuka Inokuchi)
Eleonore Von Wittenburg (Asami Yaguchi)
Spinne (Kouki Harasawa)
Riza Brenner (Risato Habuki)
Wolfgang Schreiber (Yuuki Tamaki)
Mercurius (Kousuke Toriumi)
------
Follow on Twitter at @aicnanime