In Edinburgh on Tuesday 17th October, it will be the World Premiere screening of the dub at the Filmhouse cinema as part of the Scotland Loves Anime Film Festival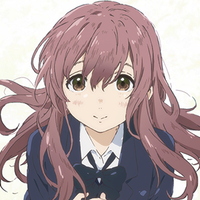 Anime Limited has big plans for their release of anime movie A Silent Voice (aka Koe no Katachi). IIn Edinburgh on Tuesday 17th October, it will be the World Premiere screening of the dub at the Filmhouse cinema as part of the Scotland Loves Anime Film Festival. Then home video releases hit the UK on October 30th. Preparing for this, they have announced the English dub cast.
Shoko in the English dub for A Silent Voice will be played by Lexi Cowden, an actual deaf actress working in LAhttps://t.co/5mVpGiHubF

— MrAJCosplay (@MrAJCosplay) September 27, 2017
Details on UK Home Video release of 'A Silent Voice' + English cast announcement!https://t.co/pVoviikkTI pic.twitter.com/v21VF48kCa

— All The Anime (@AllTheAnime) September 26, 2017
ABOUT A SILENT VOICE
Synopsis: "Shoya Ishida starts bullying the new girl in class, Shoko Nishimiya, because she is deaf. But as the teasing continues, the rest of the class starts to turn on Shoya for his lack of compassion. When they leave elementary school, Shoko and Shoya do not speak to each other again… until an older, wiser Shoya, tormented by his past behaviour, decides he must see Shoko once more. He wants to atone for his sins, but is it already too late…?"
ENGLISH DUB CAST
One of the things we're most excited about with our release of A Silent Voice is the fact that we have dubbed the film into English produced by NYAV Post (Your Name, Napping Princess, A Letter To Momo) so that the many fans who couldn't or weren't able to experience the film at the time due it only being available in Japanese with subtitles will now be able to enjoy it again and again.
Today we can also reveal the complete English cast list –
A Silent Voice – English cast list
Character
Actor
Shoya Ishida
Robbie Daymond
Shoya Ishida (in year 6 at school)
Ryan Shanahan
Shoko Nishimiya
Lexi Cowden
Naoka Ueno
Kira Buckland
Naoka Ueno (in year 6 at school)
Gia Grace
Miki Kawai
Amber Lee Connors
Miki Kawai (in year 6 at school)
Annabelle Corigliano
Miyoko Sahara
Melissa Hope
Mikoko Sahara (in year 6 at school)
Catie Harvey
Hirose (in year 6 at school)
Brian Bekerle
Kazuki Shimada
Michael Sinterniklaas
Kazuki Shimada (in year 6 at school)
Spencer Rosen
Yuzuru Nishimiya
Kristen Sullivan
Yaeko Nishimiya
Lipica Shah
Ito Nishimiya
Janis Carol
Miyoko Ishida
Sara Cravens
Nagatsuka
Graham Halstead
Satoshi Mashiba
Max Mittelman
Maria
AnnaBelle Deaner
Additional Voices
Christine Marie Cabanos
Marc Diraison
Amanda Winn Lee
Michael Schneider
Michael Sinterniklaas

Stephanie

Sheh
Michael Sorich
Director: Stephanie Sheh
Additional directing by: Amanda Winn Lee, Michael Sinterniklaas
Spotting: Clark Cheng
Casting director: Stephanie Sheh
Additional writing: Amanda Winn Lee, Clark Cheng
Consultant: Amanda Winn Lee
DETAILS ON THE UK HOME VIDEO RELEASE
In total there will be three versions available (plus a special bundle that will be exclusive to AllTheAnime.com;
Ltd Collector's Edition Blu-ray+DVD set
Standard Blu-ray
Standard DVD
Contents of the Ltd Collector's Edition Version –
This will come packed in a rigid case with a digipack to hold the Blu-ray and DVD discs. Also included is 76 page book that includes –
An introduction about A Silent Voice
Character profiles
Gallery
Storyboards
Plus we have articles included analysing A Silent Voice written by Andrew Osmond (author of 100 Japanese Animated Feature Films) and Jonathan Clements (author of Anime: A History)
AllTheAnime.com Exclusive 'A Silent Voice' Bundle –
We know a lot of you love the visuals around the film and that you would like to be able to have some of the theatrical style posters as seen in cinemas. There's been a lot of work behind-the-scenes to see if this would be possible and we're happy to say we are able to offer special bundle that will be exclusive to our AllTheAnime.com web shop (while stock lasts) where you will receive the Ltd Collector's Edition set AND also get two A3 posters!
The posters are not signed off (at time of writing) which is why they're appearing as TBC in the image above, but to give you a hint as to what we're hoping for here, one would (hopefully) be in similar style to our theatrical poster as seen in cinemas around the time of our theatrical release earlier this year, and the other (also hopefully) will be utilising certain imagery that's featured in the Japanese home video release, that we were not able to include in our home video release.
The bundle is simply our Ltd Collector's Edition version along with the two posters. The posters will be shipped separately in a poster tube in November 2017; the release date of the product itself is 30th October. The reason they will be shipped later is simply due to production time.
WHAT'S ON THE DISCS?
The contents on the discs themselves are all identical. So no matter which version you purchase you it will include the following –
The main feature "A Silent Voice" in both English and Japanese with English subtitles

Audio: English 5.1, English Stereo, Japanese 5.1, Japanese Stereo
Subtitles: Dialogue+Signs & Songs (this is the subtitle setting to accompany the Japanese audio), Song & Signs only, Subtitles for the Deaf and Hard of Hearing

On-disc extras are as follows

Music Video: "Koi wo Shita no wa" by AKIO
Music Video: "Koe no Katachi (A Silent Voice)" by Speed of Youth
Trailer and TV Spots
UK TV Spot (NOTE: this is a shorter version of our theatrical trailer)
Real-Life Locations
Interview with Director Naoko Yamada
Interview with Character Designer Futoshi Nishiya
Interview with Art Director Mutsuo Shinohara
Interview with Music Composer Kensuke Ushio
Distributor Eleven Arts has announced an October 20th date for the US screenings of anime movie A Silent Voice.
------
Follow on Twitter at @aicnanime