Japan's first permanent Sailor Moon goods shop opened last Saturday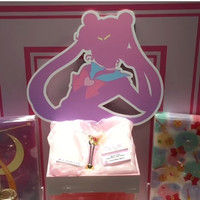 In cooperation with Toei Animation and Kodansha, Bandai opened "Sailor Moon Store" on the 0.5th floor of the Laforet Harajuku department store in Tokyo on September 23. It is Japan's first permanent official store dedicated to the Pretty Guardian Sailor Moon franchise that celebrates 25th anniversary this year. The official YouTube channel of The Japan Times, Japan's largest and oldest English-language daily newspaper, has posted a six-minute "walk-through" video to itroduce the indide of the store.
The Sailor Moon shop is separated with two sections, one presents the franchise's flowery image, and another one features its mysterious side, and offers a variety of goods including the store's limited ones, such as konpeito candy, iPhone cases, handkerchiefs, and tote bags.
"Walkthrough of new Sailor Moon store in Harajuku, Tokyo"
"Sailor Moon Store" store logo
Store original goods
Flip cover (3,800 yen)/iPhone6/6s/7 cases 2(2,000 yen)
【ストアオリジナルグッズ】
本日から、オリジナルグッズをアップしていきます☆記念すべき1回目は汎用フリップケース(3800円)&iPhone6・6s/7ケース(2000円)☆デザインはどちらも3種類!お好きな絵柄をゲットしてください!※価格は税抜。お一人様各種3点まで! pic.twitter.com/mQ201IZa5v

— セーラームーンストア (@sailormoonstore) 2017年9月20日
Konpeito candy (950 yen)
【ストアオリジナルグッズ】
続きまして2回目はコチラ!金平糖(950円)☆小瓶に入ったカラフルな金平糖です!食べ終わった後は小物入れとしてもお使い頂けます☆
※価格は税抜。お一人様各種3点まで! pic.twitter.com/ZOudun87UM

— セーラームーンストア (@sailormoonstore) 2017年9月20日
Clear keyholder (with a postcard/1,200 yen)
【ストアオリジナルグッズ】
続いて、ポストカード付きアクリルキーホルダー(1200円)!キーホルダーの裏面には、同じデザインのポストカードがセットになっています!※価格は税抜。お一人様各種3点まで! pic.twitter.com/K5AhkFni9W

— セーラームーンストア (@sailormoonstore) 2017年9月21日
Can Candy (milk, strawberry, soda/500 yen)
【ストアオリジナルグッズ】
先程のツイートで価格に誤りがありましたので再ツイートさせて頂きます。本日の紹介は、ドロップ缶(500円)☆味はミルク味、いちご味、ソーダ味の3種類のご用意です!それぞれ絵柄も異なりますので是非チェックしてみて下さい!※価格は税抜。お一人様各種3点まで! pic.twitter.com/Kkm8JxtfSa

— セーラームーンストア (@sailormoonstore) 2017年9月22日
handkerchief (1,200 yen)
【ストアオリジナルグッズ】
続いての紹介は、ハンカチ(1200円)☆セーラームーンのアイテムを散りばめた一枚となっております!大きさは縦30cm横30cmです!※価格は税抜。お一人様3点まで! pic.twitter.com/M7GdGASH0n

— セーラームーンストア (@sailormoonstore) 2017年9月22日
Tote bag (1,800 yen)/Lunch tote bag (1,500 yen)
【ストアオリジナルグッズ】
続いての紹介は、トートバッグ(1800円)ランチトートバッグ(1500円)☆しっかりとした生地で、原宿らしいビビットな色づかいがかわいいですよ☆※価格は税抜。お一人様各種3点まで! pic.twitter.com/C4Qyyi7fw8

— セーラームーンストア (@sailormoonstore) 2017年9月22日
昨日はたくさんのご来店、誠にありがとうございました!!
本日も9:00〜10:00までにお並び頂いた方に、10:00から入店抽選整理券を配布致します。
※フリー入場になる時間もこちらで告知致します。
皆様のご来店をおまちしております!! pic.twitter.com/R9Rx4J1KeY

— セーラームーンストア (@sailormoonstore) 2017年9月24日
Source: The Japan Times, Bandai press release, Sailor Moon Store official Twitter
(C) Naoko Takeuchi