Une nouvelle vie... virtuelle !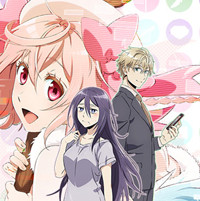 Crunchyroll annonce la diffusion en simulcast en VOSTFR de la comédie Recovery of an MMO Junkie (Net-jû no Susume). Elle débutera au Japon dès le 9 octobre (date et heure françaises à venir prochainement).
RÉSUMÉ
Moriko Morioka a 30 ans, elle est célibataire. Elle est surtout ce qu'on appelle une « NEET » (Not in Education, Employment or Training). Complètement déconnectée du monde réel, elle a trouvé refuge dans le monde d'un jeu vidéo en ligne, le seul endroit où elle se sent bien ! Là, elle commence une nouvelle vie sous les traits d'un séduisant jeune homme nommé Hayashi…
À PROPOS DE RECOVERY OF AN MMO JUNKIE
– L'histoire est adaptée d'un web manga publié au Japon depuis 2013 par Comico.
– L'animation est produite par le studio Signal.MD (Cyborg 009 Call of Justice, Hirune Hime : Rêves éveillés).
FICHE TECHNIQUE
Titre original : Net-jû no Susume (ネト充のススメ)
Année : 2017
Format : 10 x 23 min
Auteur : Rin Kokuyo
Réalisateur : Kazuyoshi Yaginuma
Studio d'animation : Signal.MD
TERRITOIRES
Recovery of a MMO Junkie sera disponible sur Crunchyroll dans le monde entier, excepté en Asie.
©Kokuyorin/comico/Recovery of an MMO Junkie Project